Oz The Great and Powerful: Sam Raimi Talks Evil Dead Similarities
by Joel D Amos at . Updated at . Comments
Believe it or not, fans of Sam Raimi's Evil Dead series will find much to appreciate in his latest film, teased in the Oz: The Great and Powerful trailer -- besides it being a powerful epic. Proof of that is seen best in a scene when Bruce Campbell is hit in the head repeatedly with a wooden stick. Sounds like a scene from Raimi's early work, no?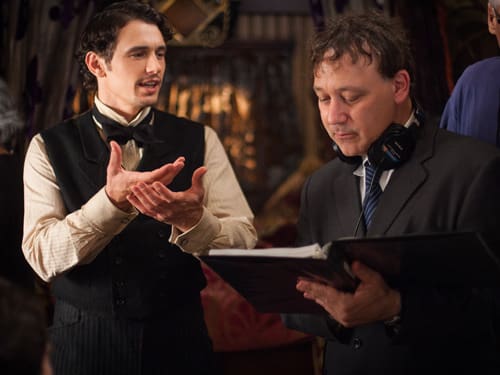 "It's always good to hit Bruce (Campbell) when you can. But yes, there are some similarities with the Army of Darkness movie, the third in the Evil Dead series, and this picture," Raimi said.
"Bruce Campbell plays a character that comes from another time back into 1300 AD and into medieval times. There they think he is one of their enemies and that a plague has come upon the land. He eventually becomes a leader of those people, so that much is similar with James's (Franco) character. He comes from another place and time, another reality and eventually comes to lead those people. It's very similar."
One of the reasons Raimi took on the potentially thankless job of filming a prequel to one of our Top 100 Movies of All-Time, The Wizard of Oz, was that that 1939 classic left him asking the question: Where did the wizard come from?
"I never understood the wizard in the first one," Raimi admitted. "How did he ever get in that situation?"
Oz: The Great and Powerful stars Franco as Oz, a man who is a simple circus magician. When he flirts with the wrong woman, he lands in a hot air balloon and courtesy of a tornado, winds up in the magical land that ironically, and perhaps fatefully, carries his name. Raimi felt that because of those unanswered questions about the titular wizard from the first film, plus the fact that there is plenty of material on Oz, pre-Emerald City, all found in the story creator's books, that a prequel was warranted and needed.
"This movie is based on the works of the great American author L. Frank Baum. All the things you see in our picture, almost all of them, were written about around 110 years ago. So he had the ideas in these stories," Raimi said. "We decided to tell a particular part of what was written in those books, how the wizard got to the land of Oz, who he was and what became of him."
What he created is an all-out spectacle (check back for our review) that reunited him with Franco after they made three Spider-Man movies together.
"Working with James Franco was great and yes, we developed a shorthand over those three Spider-Man movies that we were able to work on together. We learned to trust each other more and more as the years went on, but still it was an absolutely brand new experience working with him as the lead in this picture. I really get into the heads of my lead heroes and work very, very closely with them," Raimi said.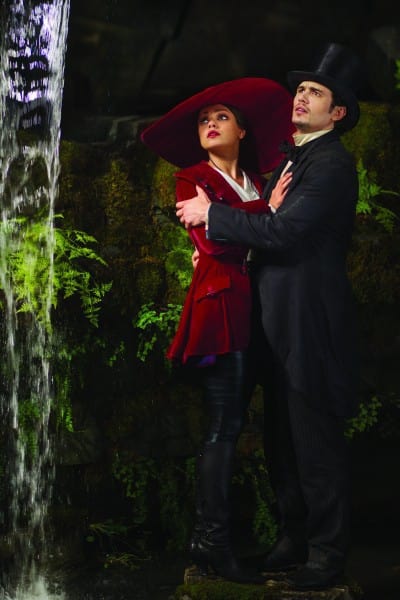 It was a different experience because of Franco's character trying to kill his Spider-Man character, and as he said, he's protective of his heroes. "I never connected with him as much as I do with like Tobey Maguire. Now, I was taking this journey through his eyes and we got to be very close and share a lot of intimate thoughts. I had a wonderful experience working with James on this."
Since Franco wasn't the original actor pursued for the part, it shows what the Rolling Stones iconically sang, You Can't Always Get What You Want (But If You Try Sometime, You Find You Get What You Need). "Originally when I joined the project, Robert Downey, Jr. was attached to play the role, and I met with him about it twice and I don't think he felt the picture was right for him. And then I talked with Johnny Depp briefly. About 48 hours he was thinking about it. He decided it wasn't right for him either," Raimi recalled. 
"Then I heard James was interested and I had never thought of James. But, then I began to think about what I knew about James and the rest is history."