Oz The Great and Powerful: Zach Braff Talks Following His Yellow Brick Road
by Joel D Amos at . Updated at . Comments
The fact that Zach Braff is part of The Wizard of Oz mythology now with his starring turn in Oz: The Great and Powerful is not lost on the actor. "It's so cool. I kept thinking when I have kids someday and I want to show them some of what I'm most proud of, Oz will go to the top of the list. Although my kids will probably think it's a sequel," Braff said and laughed.
"I did Chicken Little and my nieces and nephews just went nuts. It will be such a fun thing to share with my kids and to be a part of the mythology. I was happy to just be invited to the party."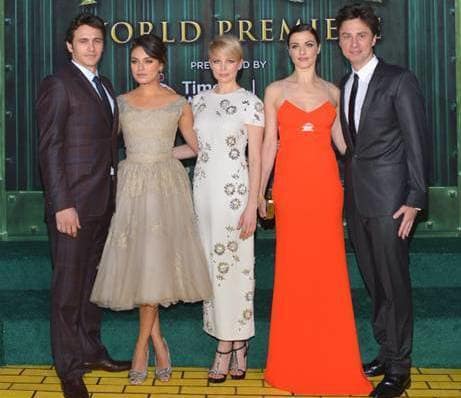 Braff met Movie Fanatic for an exclusive interview to talk about where Oz: The Great and Powerful sits amongst his dreams and gives us the secret to the magic of director Sam Raimi and star James Franco. And we also find out if the writer-director of those great Garden State quotes will be back with a new film. Hint: Yes... and it will be shooting this summer!
Movie Fanatic: What was your first memory of The Wizard of Oz?
Zach Braff: I don't remember specifics, because it was on every year. I just remember it was an annual thing. Back when there wasn't a million channels, your family would watch one thing together. I remember being terrified by those baboons. Some people have said that the baboons in Oz: The Great and Powerful are a little scary. Yeah, I still think about the baboons from the original. I think they need to be a little scary.
Movie Fanatic: If I had told you 20 years ago that you would be playing a talking, flying monkey…
Zach Braff: I wouldn't have believed you. Even when I got the call that Sam wanted to meet me and what the part was, I was like, "This sounds surreal." He's such a living legend and the sweetest man. The fact that he could accomplish this on this scale and give every single person from the PAs to the stars -- he has a way of managing his time that everyone feels they're in tune with him and I think that's one of the geniuses of Sam.
Movie Fanatic: You play two characters, as teased in the Oz: The Great and Powerful trailer. Both his magician's assistant and his flying monkey sidekick in the land of Oz are the conscience of James Franco's Oz.  Did you see them as different?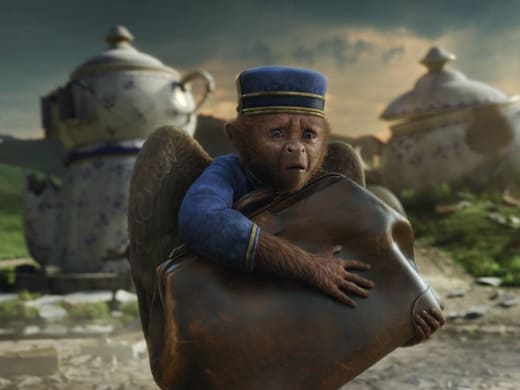 Zach Braff: I wanted them to be the same. There's this thing I remember from college about Midsummer Night's Dream where everyone is coming out of the city into the forest to work out their problems with the crazy fairies. They solve their problems and they come back to the city. I kept thinking of that. People go to Oz to work out all their problems. Oz can fix and make you realize what's important. Frank manifests as Finley to get what he really wants, which is friendship and to continue to be Oz's conscience. Sam said Frank is the icon of true friendship and even though he's treated like dirt, he's going to stick by his man and pull Oz towards goodness.
Movie Fanatic: After working so closely with the man who has so much going on, from poetry, to acting, writing directing... What is the key to James Franco?
Zach Braff: He is a renaissance man. He's good at a lot of things. In this day and age, people get so cynical about that and they want to pick at it. And the genius of James is that doesn't faze him at all. He continues on. There's a section we did for the DVD where he interviewed me and some of the actors -- one of the best interviews I ever had [laughs]. Oh my God, he's good at something else too?! I think he never sleeps. He has so many projects and he's so driven, they can be the most wacky esoteric art projects and he'll be up till 6 in the morning. He's so driven.
Movie Fanatic: Well, you too are a renaissance man. Loved your work on Garden State. Will you be writing and directing again soon?
Zach Braff: I have a new script Wish I Was Here -- finally put my butt down to write with my brother Adam and we had a great response. Stacey Sher and Michael Shamberg, who produced my first film and Tarantino's films, they just did Django Unchained, they're going to produce. We're working on casting and hoping to shoot this summer.

Movie Fanatic: In Oz: The Great and Powerful you achieve a rarity for actors. You appear both on screen and voice-over. Was it a different process?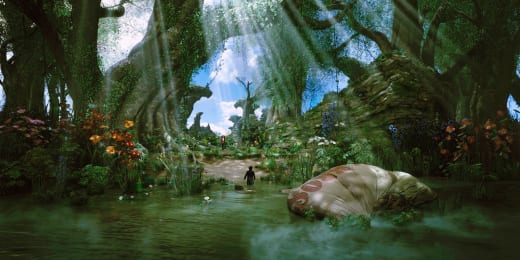 Zach Braff: This was totally different. Sam didn't want to do the mo-cap thing. He doesn't like the way that looks. For me, he wanted me there and acting it out and he had video cameras on me. That was unique. He also wanted live and improv and riffing. He wanted the live buddy relationship. That was a whole new thing, not just being on a movie of this scale. It was fun for me, a great acting exercise. I was creating a creature from scratch!
Movie Fanatic: People learn something about themselves when they come and go from Oz. What did you?
Zach Braff: As a filmmaker, first and foremost, I learned so much from Sam. I learned that it's possible, even on a movie of this scale, to have personal intimate connections with everybody. When we made Garden State, we had a tiny crew and made it in 25 days. We were a little family. And Sam, with this epic crew and epic sets, found a way to create that core group that felt like we each had a personal relationship with him. We were part of this family. As I take my directing forward and dive into the director's chair again, there's so much I learned from watching him. It was like film grad school.