Check out the new trailer for Scary Movie 5, which promises to include a spoof of Mama, followed by a new poster: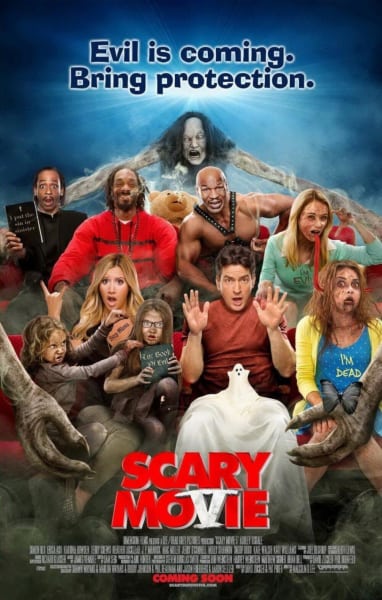 The film features appearances from Charlie Sheen and Lindsay Lohan, who can't seem to be in a movie that doesn't comment on her ongoing downward spiral into infamy (have you seen the InAPPropriate Comedy trailer of hers?).
Ashley Tisdale, Simon Rex, Erica Ash, Molly Shannon, Heather Locklear, Snoop Dogg (or Lion?), Katt Williams, Chris Elliot, and Terry Crews (Bridesmaids) also star.
The horror spoof series that was started by the Wayans Brothers has since been handed down to director David Zucker, and now Malcom D. Lee. Marlon Wayans, meanwhile, made his own horror spoof this year in A Haunted House.
Scary Movie 5 premieres April 12