We all know that there are two dueling Steve Jobs movies on the horizon. One, which is expected next month, jOBS, stars Ashton Kutcher in the lead role. The other, which is still in pre-production, was written by Aaron Sorkin.
Well, there's a dark horse third film that's going to beat them all. Funny Or Die has been secretly making a 60-75 minute comedy biopic about the tech innovator, starring Justin Long (Movie 43) as Jobs.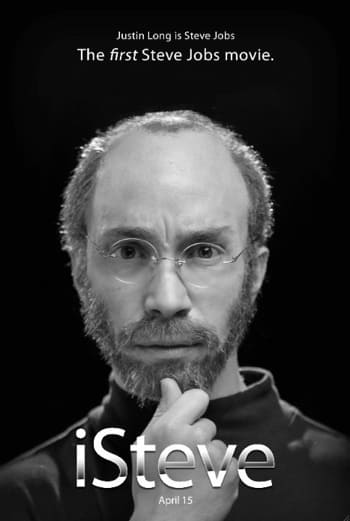 The film, titled iSteve, will technically be the first Steve Jobs biopic released, beating jOBS by a few days. It will be the longest project Funny or Die, known for its short comedy videos, has ever released.
Writer/director Ryan Perez say that the idea began as a fake trailer and just escalated from there. The film was written in three days and taped in five, with most of the information coming from Wikipedia.
The fake biopic is all in good fun though, and is likely in the vain of Walk Hard. Watch iSteve on Funny or Die beginning April 15.