The Call is not what you would expect. Watching The Call trailer, unfortunately the teaser does not do the film justice. Halle Berry stars as an LAPD 911 operator who is excelling at her job until one particular call gets under her skin. We're not giving anything away here as it's in the trailer, but she loses a caller to a killer which scars her immensely. The story picks up six months later and she's instructing a new batch of 911 operator recruits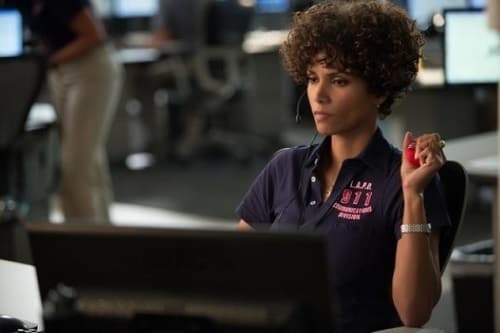 .
Then... a call comes in that will suck Berry into a similar mystery that recalls the one that sent her reeling months prior. While showing her recruits "The Hive," the 911 operator floor, a former trainee of hers gets a call she cannot handle. So, Berry hops on the phone and our thriller hits high gear.
Abigail Breslin has been kidnapped from an area mall and placed in a trunk. When she comes to, Breslin panics, then calmly remembers her cell phone and calls 911. It is there that she and Berry's stories will connect until the film's final moments. What's so interesting about the casting is that the two actresses are impeccably chosen. They have great chemistry, but spend the entire film on opposite sides of the phone. The two create tension and thrills that could not have been easy given the premise.
As shown in The Call poster, Berry is stoic when she needs to be and shows off that Academy Award-winning talent throughout... even if her hair is a bit, well, wild. Also strong is her love interest, an LAPD cop played by Morris Chestnut. He is the right amount of bravado and sensitivity that allows Berry to be in the driving seat of the movie, and frankly their relationship.
Our The Call review can state that the film is a surprising thriller. If you can forgive its final moments -- that did honestly have our screening audience laughing then cheering -- Berry and company weave a web that is certainly fascinating. Director Brad Anderson has crafted a world where the mystery is right in front of the audience. We know the answers to the questions. But, it is interesting witnessing Berry and her first responders try to figure it out.
Breslin is up for the challenge of bringing her scenes to life, especially when much of it involves her being stuck in the trunk of a car. When Berry and Breslin's worlds collide, it is not quite as rewarding as we would like... but a fun ride nonetheless.