With The Croods, the filmmakers behind Madagascar are at it again making prehistoric family fun. Nicolas Cage leads a clan who are caught between cavemen and homo sapiens. They're the last of their breed. The DreamWorks Animation team has done it again by assembling a terrific cast with Cage, Emma Stone, Catherine Keener, Cloris Leachman and Ryan Reynolds.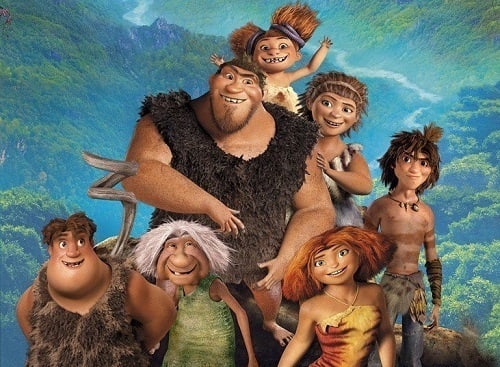 Our The Croods review has to start with the stellar voice work by Cage. It is possibly his best performance in 15 years. As shown in The Croods trailer, his father character, Grug, is simultaneously physically imposing, brute, paternal and one big worrywart. You see, his family contains the last remaining members of a race that has disappeared with time. Everyone they know has either been eaten, crushed or gotten sick and died.
Grug keeps his family in their cave where they spend every moment that the sun is not shining. And that does not sit well with his daughter Eep (Stone). She wants to explore the world, but Grug knows that there is little chance she -- or any of them -- will survive out there. Somewhere in the middle is Keener's mother Ugga. She understands her daughter's wanderlust, but also knows Grug's demands are what have kept them alive.
One bright sunny day, while exploring a little further from the cave than she should, Eep meets Guy (Reynolds). Not only is he insanely handsome, but he is a bit more evolved. See, Guy is the first of the homo sapiens and he has figured out that the world as they know it is ending. There is a geological shift of the earth coming that will alter or destroy everything they know.
It is soon after Guy enters the picture that The Croods becomes a road trip movie as the family has to move on when their cave is destroyed be the aforementioned tectonic shift. The audience meets a bevy of new creatures in this land beyond the cave and it is a stroke of artistic genius by the animators. The 3D pops in vibrant colors that not only kids will marvel at, but also adults as it is just plain gorgeous.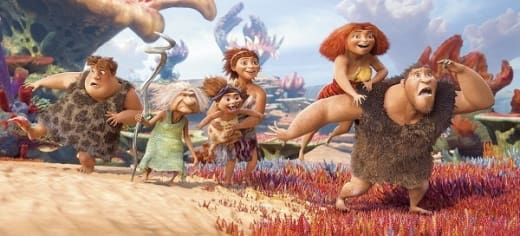 What is nice about movies such as The Croods for families is that it is not only solid entertainment for young and old, but also an opportunity for a little education tossed in with your fun. What better way to teach your kids about how the world changed a million years ago than through a joyous ride at the movies? That car ride home will be guaranteed to be filled with questions of the scientific-historical kind!
Could The Croods be a franchise in the vein of the creative team behind the movie's last series, Madagascar? We certainly hope so as Cage, Reynolds, Stone and Keener are a clan we'd like to visit with again.