The Hobbit An Unexpected Journey DVD Review: Return to Middle Earth
by Joel D Amos at . Comments
The Hobbit: An Unexpected Journey lands on DVD and Blu-Ray and it is something to behold, largely due to the forward thinking of its mastermind, Peter Jackson. As the filmmaker was making his return to Middle Earth after his triumphant, Oscar-winning run with the Lord of the Rings movies, he was chronicling the effort. Jackson famously released a series of The Hobbit production videos that set the stage for some of the stellar behind-the-scenes clips featured on the DVD and Blu-Ray.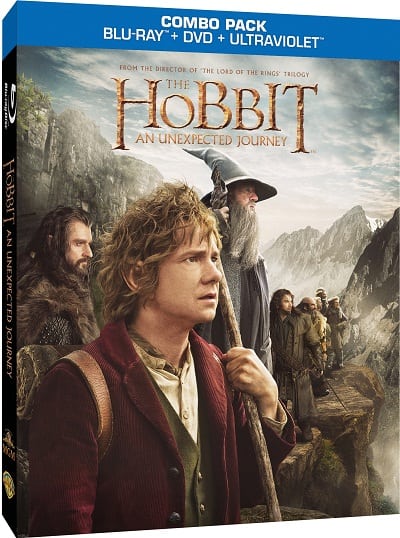 The Hobbit: An Unexpected Journey landed last winter and quickly became a blockbuster. Jackson decided to break J.R.R. Tolkien's first book that described his Middle Earth universe into three parts. The first has us meeting Bilbo Baggins and chronicles what happens when he meets the wizard Gandalf for the first time and heads out on an adventure that would permeate throughout the entire Tolkien series.
This particular adventure finds Bilbo and Gandalf helping a group of dwarves as they seek to reclaim their homeland from the evil dragon Smaug. We meet a new cast of characters, but old Lord of the Rings favorites return for the prequel including Cate Blanchett's Galadriel, Elijah Wood's Frodo, Hugo Weaving's Elrond and as our The Hobbit: An Unexpected Journey review stated was the best scene in the entire movie... the return of Gollum!
The film is impressive and looks fantastic on home video, particularly the sound, and it's fascinating to witness how it came together on the DVD and Blu-Ray's set of extras that are made up solely of those Jackson video journals. Some may think that having these video featurettes as the only extra for the DVD and Blu-Ray would be limiting, but honestly, all you need to get behind the magic of Jackson and his filming of his next Middle Earth trilogy is available right there in those 10 videos.
By including the entire collection of Jackson production videos, it's fascinating to see the entire film come together from concept to full-blown epic. Of our favorite video journals are Jackson's episodes on location scouting, filming in 3D (something new from the Lord of the Rings trilogy) and the joy seen in the filmmaker's eyes as he premieres his hard work in his hometown of Wellington, New Zealand.
And as Movie Fanatic previously reported, those who purchase The Hobbit: An Unexpected Journey will receive a special code to allow them to see a Jackson-presented special look at the next chapter: The Hobbit: The Desolution of Smaug on March 24.