The Hobbit: An Unexpected Journey DVD Unlocks Desolation of Smaug Sneak Peek
by Joel D Amos at . Updated at . Comments
When The Hobbit: An Unexpected Journey lands on DVD and Blu-Ray tomorrow and fans can begin their Hobbit collection, the home video release contains an added treat for fans of the J.R.R. Tolkien series. Stay with Movie Fanatic for our full review of the massive home video set March 19, but we wanted to let you all know about the bonus feature that may have fans more thrilled than any other.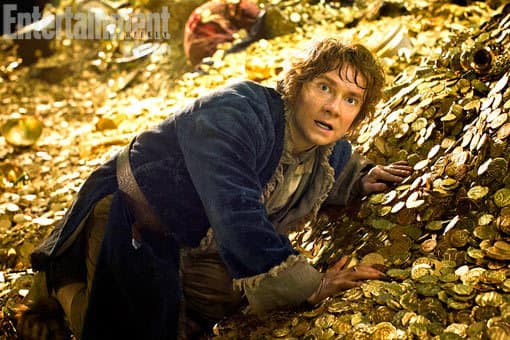 Thus far, audiences have seen very little of the second film in Peter Jackson's latest trilogy, entitled The Hobbit: The Desolation of Smaug -- other than the photo above.
When fans purchase the DVD or Blu-Ray, they will be able to "unlock" a special preview of the second film with a special introduction by the mastermind behind the entire Middle Earth fantasy, Jackson.
Here's how it works:
After purchasing the home video of The Hobbit: An Unexpected Journey, fans will receive an UltraViolet code that will allow the viewer to tune in on Sunday, March 24 at 3 p.m. Eastern Time on the trilogy's official website. There, the man behind the curtain, so to speak, will present never-before-seen footage of the highly anticipated sequel that lands in theaters this November.
You can even ask Jackson a question about The Hobbit before the March 24 event, by visiting the series' Facebook page.
Until then, enjoy The Hobbit: An Unexpected Journey trailer and get excited about the film's release on home video!