Tournament of Movie Fanatic Franchises Bracket: Last Chance to Vote for Round 2!
by Micah J Gordon at . Comments
With all the round 2 matchups of our Franchises Bracket open for voting, the contest are all heating up. Only four film franchises can advance to the semi-finals, and it's up to you to decide which ones will do so!
Today is your last chance to vote in Round 2, with the winners being announced at the end of the day.
The tournament bracket is posted below. Scroll down to vote for each matchup, and check back soon to see who won!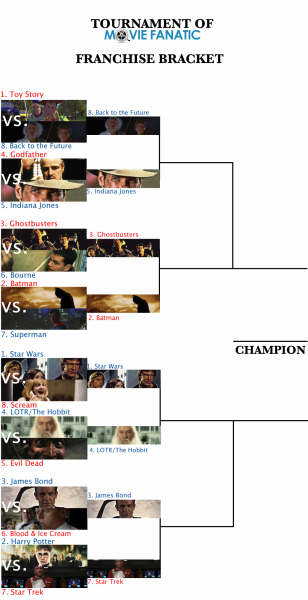 Welcome to Round 2 of the Tournament of Movie Fanatic Franchises Bracket! Two upsets from round 1, both 80's adventure franchises, are going up against each other in the first matchup of the second round. Which do you think is better: Back to the Future or Indiana Jones? Vote for your favorite franchise! View Poll »
Poll is now closed! Here are the results:
Back to the Future
32.0%
Indiana Jones
68.0%
Round 2 of the Tournament of Movie Fanatic Franchises Bracket continues! Two of the biggest epic film series in history are about to do battle. The sci-fi Star Wars franchise faces off against the fantasy Lord of the Rings/Hobbit franchise, to see who will move on to the semi-finals! Cast your vote! View Poll »
Poll is now closed! Here are the results:
Star Wars
61.6%
The Lord of the Rings/The Hobbit
38.4%
Round 2 of the Tournament of Movie Fanatic Franchises Bracket is in full swing! Today's matchup pits a shorter franchise against a very deep franchise. Ghostbusters is taking on Batman! Vote for which franchise you think should advance to the semi-finals! View Poll »
Poll is now closed! Here are the results:
Ghostbusters
63.4%
Batman
36.6%
It's the final matchup of Round 2 in our Franchises Bracket! And this fight includes one of the most populated movie franchises in history. James Bond takes on Star Trek to see who will move on to the semi-finals. Vote for your favorite franchise! View Poll »
Poll is now closed! Here are the results:
James Bond
50.7%
Star Trek
49.3%