Zero Dark Thirty lands on DVD and Blu-Ray after a triumphant run in theaters that culminated in the film's five Oscar nominations and one victory for Best Editing. Kathryn Bigelow scored high marks for her follow-up to her Academy Award-winning The Hurt Locker for its uncanny ability to capture the decade-long manhunt for the world's most wanted man: Osama Bin Laden.
Jessica Chastain wows as the CIA agent who led the effort to track down the mastermind of the 9/11 attacks that killed over 3,000 American souls. Bigelow and her screenwriter Mark Boal have done the almost impossible. They took a pedantic and meticulous global search and narrowed it down into a two-hour cinematic thriller that crackles with heightened anticipation around every turn. Movie Fanatic is just a little taken with this picture, as it sits atop our Top 10 Movies of 2012.
Chastain is not alone in the cast excellence, as we stated in our Zero Dark Thirty review. She is joined by Jason Clarke, Chris Pratt, Mark Strong, Edgar Ramirez, Kyle Chandler and Jennifer Ehle.
The DVD and Blu-Ray is out now and is not only a chance for those who missed the movie's magic when it hit theaters to see it at home, but those who treasure the masterpiece Bigelow crafted can now add it to their collection of some of the best of what Hollywood has to offer.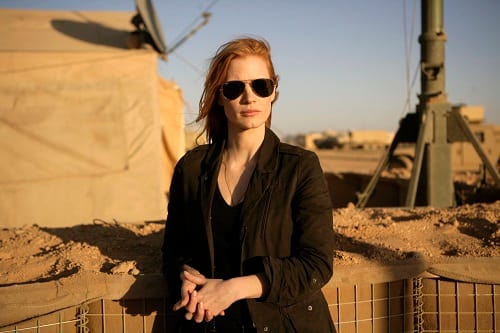 There are four featurettes that comprise the disc's bonus features. And all four are utterly brilliant and only add to the resonance of Zero Dark Thirty.
The No Small Feat video looks at how Bigelow and her team achieved the difficult task of bringing this story to life. The Compound takes audiences behind the scenes and shows the effort the production design team had in re-creating the Pakistan compound where Bin Laden was found and killed. It is uncanny how they achieved it.
The third doc, Geared Up, is strong, but the fourth, Targeting Jessica Chastain, is the best of the bunch. It is impossible to think of this movie without Chastain -- who earned a Golden Globe for her work. The last featurette shows how Bigelow went after Chastain and persuaded her to take on the challenge of a lifetime.