Best of Warner Bros. DVD Review: 20 Riveting Romances
by Joel D Amos at . Updated at . Comments
Warner Bros. continues to mark its 90 years of making movie magic with a new DVD box set that celebrates 20 of its best romances, out today. After the Best of Warner Bros. Best Pictures Collection and Best Musicals Collection, the studio is ready to set hearts aflutter with nine decades of romance.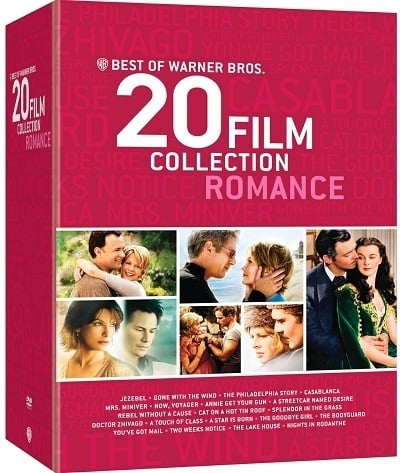 The set begins with 1938's Jezebel and concludes with 2008's Nights in Rodanthe. If there is one thing that is congruent with all the titles in this set it's that the casting of the two leads that fall in love could not have been more perfect.
Can you imagine Casablanca without Humphrey Bogart and Ingrid Bergman? How about You've Got Mail without Tom Hanks and Meg Ryan? Can't be done!
The Warner Bros. 20 best romance movies collection is broken into three sections on 22 discs: Timeless Love (1938-1942), Unforgettable Affairs (1950-1965) and Modern Romance (1973-2008).
In between Jezebel and Nights in Rodanthe are some of the most timeless and heartwarming romantic films of all time, not simply ones in the Warner Bros. library.
Included in this set are instant classics that wowed audiences the moment they arrived including Gone with the Wind, The Philadelphia Story and Casablanca, all on our Movie Fanatic Top 100 Movies of All Time. You like romantic sweeping epics? Then how about Dr. Zhivago!
There are also plenty of not just legendary romantic moments, but iconic cinematic scenes that are forever ingrained in movie fans' minds such as Marlon Brando's powerhouse performance in A Streetcar Named Desire, James Dean's timeless Rebel Without a Cause, and who could ever forget the power that was Elizabeth Taylor and Paul Newman heating up the screen in Cat on a Hot Tin Roof?
The modern romance that adds a comedic tone, obviously now known as the romantic comedy, is also in full effect in this Warner Bros. 20 best set from 1977's The Goodbye Girl to 2002's Two Weeks Notice.
Spanning this set, there are a few titles we would be remiss by not mentioning. They have all stood the test of time: A Star is Born (1976), Splendor in the Grass (1961), Annie Get Your Gun (1950), The Bodyguard (1992) and The Lake House (2006).