Django Unchained has landed on DVD and Blu-Ray with its two Oscars firmly in hand. Quentin Tarantino scored for his Best Original Screenplay while star Christoph Waltz won his second straight Best Supporting Actor Oscar for his second straight film with Tarantino (Inglourious Basterds).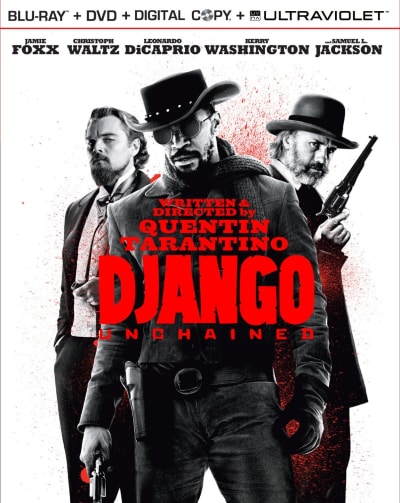 As shown in the Django Unchained trailer, Jamie Foxx portrays the title character, a slave making his way through the south two years before the beginning of the Civil War. Although chained, he keeps one eye open for the love of his life, his wife Broomhilda (Kerry Washington) -- as they were violently separated. She is now a house slave for the most evil of fellows, Leonardo DiCaprio's Calvin Candie.
While being transferred to another plantation, Django meets Waltz's Dr. King Shultz. He is a dentist by training, but has found the life of a bounty hunter much more lucrative. See, he needs Django to help identify a man he is pursuing, so he "buys" Django with the intention to find his bounty, and set the slave free. But, time proves that Django is quite good at bounty hunting and the pair become a team. King is also moved by Django's love story, so he agrees to help find and free his new partner's wife.
As we stated in our Django Unchained review, the film is astounding. Yes, it's violent... this is Tarantino after all. But, it is also quite poetic, romantic and also spotlights a dark period of American history that should never be forgotten. Sure, the "N" word is used quite often, but it was back then. We, as a society, should have the historical hindsight to discern that... although some may have trouble with its repeated use... particularly by DiCaprio and Samuel L. Jackson's character.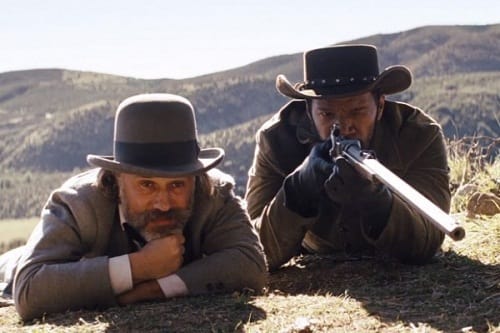 As for the Blu-Ray and DVD release, the extras are missing something quite important. We would have treasured a commentary track by Tarantino, but there is none to be found. What is available is quite impressive and most importantly, salutes the origins of the film. Tarantino's Django Unchained is inspired by the film Django and it is felt in how the film is shot, and even its soundtrack.
The bonus feature Reimagining the Spaghetti Western: The Horses & Stunts of Django Unchained takes viewers inside the making of the masterpiece and illustrates Tarantino's firm grasp on his story and also showcases a behind-the-scenes look at the visionary's talents. The look of the film is also explored in the stellar documentary Remembering J. Michael Riva: The Production Design of Django Unchained as are the impeccable costumes in The Costume Designs of Sharen Davis.
There's a plug for the recent release of 20 Years In The Making: The Tarantino XX Blu-Ray Collection and a Django Unchained Soundtrack Spot that is a terrific bonus if you appreciate the power of the score.