Evil Dead stars Jessica Lucas and Lou Taylor Pucci met Movie Fanatic for an exclusive video interview where it was clear from the get-go that these two actors were beyond thrilled to now be part of the Evil Dead universe. The cult following has reached epic proportions, resulting in the demand for a 2013 film, based on the original, that completely re-imagines the world in the most scariest of ways. Evidence of that is seen all over the Evil Dead trailer.
"It's amazing to be a part of history. This film has the most die hard fans anywhere. I literally have people walking up to me to show me their Evil Dead tattoos," Pucci said. "That's pretty special. It's insane. But, it's awesome."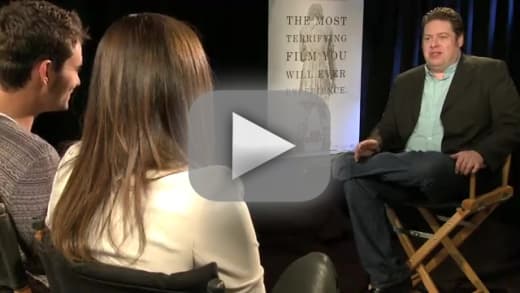 Lucas knew she was onto something at the film's South By Southwest debut. "At the premiere, seeing 1,200 people respond the way they did was really satisfying," Lucas recalled. "I'm totally honored to be a part of it. There was a lot of pressure to get this right and not disappoint the fans. Hopefully we didn't."
Given our Evil Dead review, she should feel safe in terms of fans' reactions.
Pucci admitted he doesn't normally go for horror films. But, not Lucas. When asked her favorite, she didn't flinch. "The Ring, I still say The Ring," she admitted. "I like ones that are more psychological in nature. That one really got me."