Much like the demonic presence that resides in the film's woods, the Evil Dead franchise his been awoken! The reboot, simply called Evil Dead, opened this weekend in first place at the box office, pulling in $26 million.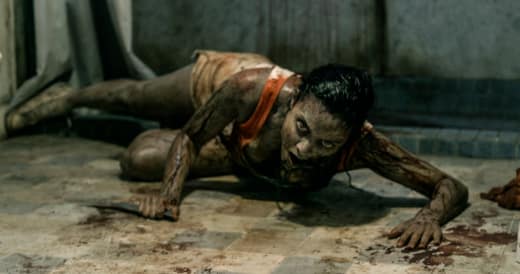 G.I. Joe Retaliation dropped to second place this weekend to make room for the new horror film. Dwayne Johnson, Channing Tatum (21 Jump Street), and Bruce Willis earned $21.1 million in its second weekend.
In a virtual tie with Retaliation is The Croods. After losing out to the action film last weekend, the animated adventure also pulled in $21.1 million, bringing its three-week total to $125.8 million.
Jurassic Park 3D came in fourth place. The re-release of Steven Spielberg's 1993 classic earned $18.2 million, while Olympus Has Fallen rounded out the top five with $10 million.
Box office top 10:
1. Evil Dead, $26 million
2. G.I. Joe: Retaliation, $21.1 million
3. The Croods, $21.1 million
4. Jurassic Park 3D, $18.2 million
5. Olympus Has Fallen, $10 million
6. Tyler Perry's Temptation, $10 million
7. Oz: The Great and Powerful, $8.2 million
8. The Host, $5.2 million
9. The Call, $3.5 million
10. Admission, $2 million