Sure, Bugsy explored how the mob had tried to come to Los Angeles to spread their influence beyond New York and Chicago. But, there have been very few City of Angels stories coming out of Hollywood about gangsters and their westernmost foothold in America.
Gangster Squad arrived in theaters earlier this year and has now landed on Blu-Ray, DVD and digital download to tell the story of Mickey Cohen (Sean Penn) and his effort to rule the city with an iron fist.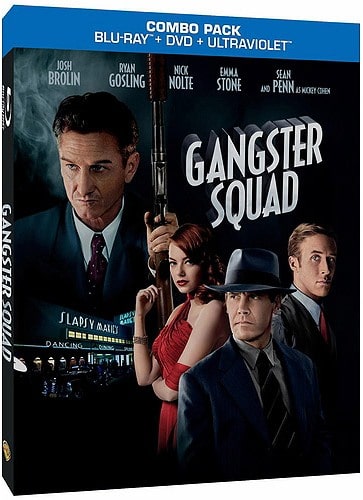 As teased in the Gangster Squad trailer, Cohen is succeeding in his effort to criminalize the city. Nick Nolte's police chief has had enough and puts Josh Brolin's returning from World War II hero in charge of a group who will essentially do what is necessary to bring Cohen down.
Is Gangster Squad one of our Top 10 Gangster Movies? Maybe not, but it does give a compelling portrait of a different side of the mob game and for those audiences who missed it in theaters, the chance to delve deeper into the film is one of the most astounding aspects of the film's arrival on home video.
As we stated in our Gangster Squad review, the cast is top notch. From Penn, Nolte and Brolin to Ryan Gosling continuing his hot streak, each actor is up to the challenge presented by the others. On the Gangster Squad itself, Movie Fanatic treasured Michael Pena (End of Watch), Robert Patrick and Anthony Mackie in supporting roles that could have been easily overlooked.
That is indicative of the entire ensemble, especially Emma Stone who plays outside her comfort zone as the moll attached to Cohen's arm, and is simultaneously having an affair with Gosling's LAPD officer.
Of the bonus features that stand out, the commentary track laid down by director Ruben Fleischer (Zombieland) is insightful, intelligent and adds layers to his film. Also, one cannot be a fan of gangster movies and not appreciate the fashion.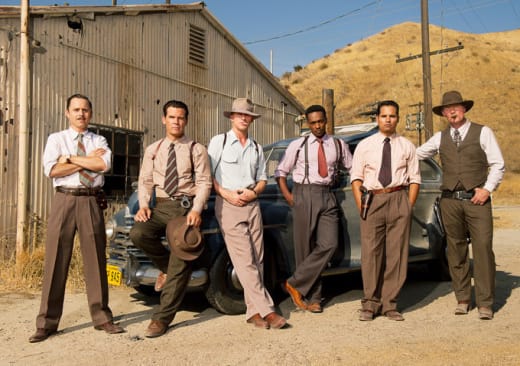 The costume design in any mob movie has to be top tier -- audiences have come to expect it. These guys may be battling, but they have to look good doing it. The bonus featurette Tough Guys with Style explores the necessity that is sharp-dressed men and women featured prominently for any gangster movie's success.
Anyone who has a penchant for the historical aspect of the true tale they just witnessed will appreciate The Gangland Files. Try exploring that bonus feature and not seek out other like films!
After seeing the deleted scenes included on the DVD/Blu-Ray combo pack, honestly, one can understand why those moments were cut from the film. Yet, after witnessing Gangster Squad, it's nice to see the additional context that these particular cut scenes provide.