At the end of the day, Iron Man 3 star Robert Downey Jr. says, the third chapter in the Iron Man franchise is meant to entertain. Although there is a scene in the film where the famed Mann's Chinese Theater explodes from a bomb, no one gathered at the film's press conference feels there is any connection to the horrors that unfolded last week at the Boston Marathon.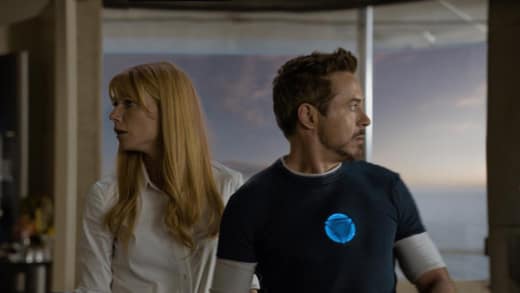 "I like entertainers to talk about entertainment," Downey told the gathered press, including Movie Fanatic.
Cheadle, who plays Iron Patriot, concurred. "Clearly, this movie was in the can before anything happened. As Robert mentioned earlier, the job of this film is to entertain," he added. "We're really trying to give people the ability to go into a darkened room and have a couple of hours of just pure enjoyment."
Gwyneth Paltrow, who sees an expanded role in the film teased in the Iron Man 3 trailer, revealed that moments like the superhero violence seen onscreen, she sees as teaching opportunities for parents.
"We do live in an unsafe world. That's the truth. I'm dealing with that now with my seven-year-old, who's grappling with the fact that the world is unsafe and there are people who do harmful things," Paltrow said.
"I don't think there's anything wrong with presenting that idea. We can't lie to our children and pretend the world is perfect and everybody's happy and out there to do good. I just know that after my children saw the movie I had certain conversations with my son about it and it's a good place to have a conversation."