In honor of the release of Jack Reacher on digital download today, two weeks before it lands on DVD and Blu-Ray, Movie Fanatic dove into the action of the Tom Cruise-starring hit. We headed to the Paramount Studios backlot in Hollywood to not only do exclusive interviews with the men who brought the sizzling action to life, but also to experience it firsthand.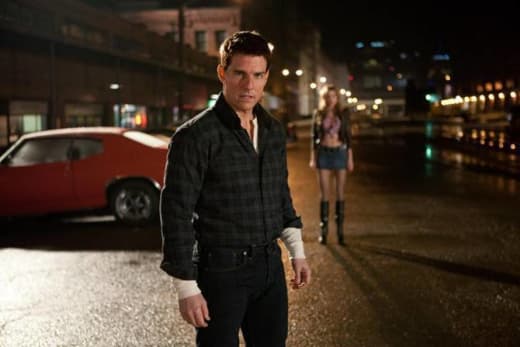 We drove in the car that Cruise drove like a maniac through the streets of Pittsburgh in the film (and teased in the Jack Reacher trailer) that is based on the blockbuster book series by Lee Child and also learned the moves from the iconic bar fight sequence where the superstar takes on five guys and promptly leaves them in the dust.
Our interview with Robert Alonzo and Andy Norman takes our readers inside the making of a fight that appears effortless on the outside, but let me tell you… after living it, it's as complicated as learning a foreign language! Alonzo, the "Keysi" fight coordinator, and Norman, a street fighting expert who learned his unique fighting style on the rough and tumble streets of his small British town, were charged with crafting a fight sequence unlike any audiences have seen prior.
We wondered how their jobs were made easier by having a star in Cruise who insists on doing all his own stunts. Alonzo and Norman also dish their favorite day on the set and then the video closes with yours truly executing that street fight scene with five stuntmen charging!
Then Movie Fanatic went for a ride in the suped-up car that Cruise raced through the streets of Pittsburgh. We spoke with Paul Jennings, Second Unit Director, and Michael Johnson, stunt driver, to take you inside the filming of a car chase. Given that the street fight sequence had to be as unique as they come, Jennings and Johnson sought to raise the bar with their car chase. They tell us how!
In Jack Reacher, Cruise portrays a former elite military man who is wanted in connection with a sniper shooting in the Pennsylvania city. Although the audience knows he has nothing to do with it, it's a fast-paced thrill ride witnessing him clear his name. For more on the action-fest, check out our theatrical Jack Reacher review.
And check back with Movie Fanatic for our Jack Reacher DVD review when the film streets May 7.