Jurassic Park 3D is honestly how the movie should be seen. It's stunning how brilliant the conversion of the masterpiece to three dimensions is for an audience who has placed the film among the Top 10 Steven Spielberg movies. It's as if the filmmaker shot the movie, knowing that someday the technology would exist to bring his dino terror ride to the format custom made for his movie.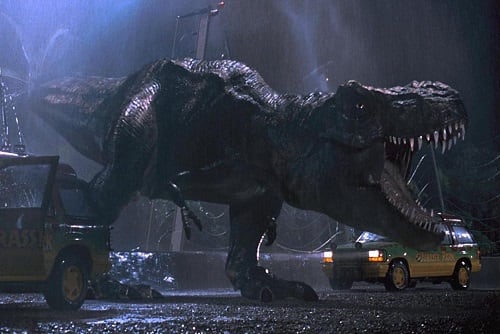 By now, we all know the story of Jurassic Park. Millions of you have seen it, but never like it is being presented. And might Movie Fanatic recommend witnessing the 3D conversion of an American classic in the IMAX format? We witnessed it that way and it was among the most thrilling and enjoyable cinematic experiences at the movies in a long, long time.
The other thing that stands out with the Jurassic Park 3D upgrade, is how astoundingly well the story and the film itself holds up to the test of time. There is nothing in the subject matter or what is seen on screen that feels dated. If anything, the film is timelier than ever. As science fiction becomes science reality, Spielberg expertly gives us a cinematic warning sign of what to avoid.
The performances by leads Sam Neill, Laura Dern, Jeff Goldblum and Richard Attenborough ground the fantastical film in real human emotions. Spielberg magically strikes a balance between the horrors of dinosaurs gone crazy while incorporating his favorite themes of family and legacy.
With this particular 3D re-release, we might see something truly special. Whereas the three-dimensional returns of Top Gun and others were met with a collective sigh by the audience, Jurassic Park could easily become a blockbuster (again).
The film is a benchmark for many movie fans. And there is something truly special about witnessing it on the big screen. Our Jurassic Park 3D review reports this is a perfect storm of audience nostalgia, cinematic technological advances and a story that is as compelling as it was decades ago.