With only one major new release on Friday, it's no surprise which film finished the weekend in first place: Oblivion. Tom Cruise, Olga Kurylenko, and Morgan Freeman earned $38.2 million over their first three days in theaters.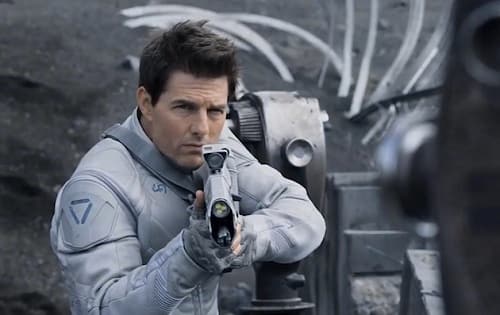 42 dropped to #2 in its second weekend in theaters. The Jackie Robinson biopic took in $18 million in ticket sales, bringing its total gross to $54.1 million.
Remaining in third place in its fifth weekend is the animated caveman movie The Croods. The Dreamworks Animation added $9.5 million bringing its total earnings to $154.9 million, after last week's announcement of a Croods sequel.
Scary Movie 5 and G.I. Joe: Retaliation round out the top five. The sequels grossed $6.3 million and $5.8 million, respectively.
Box office top 10:
1. Oblivion, $38.2 million
2. 42, $18 million
3. The Croods, $9.5 million
4. Scary Movie 5, $6.3 million
5. G.I. Joe: Retaliation, $5.8 million
6. The Place Beyond the Pines, $4.7 million
7. Olympus Has Fallen, $4.5 million
8. Evil Dead, $4.1 million
9. Jurassic Park 3D, $4 million
10. Oz: The Great and Powerful, $3 million