In the lowest-earning weekend since February 3, Pain and Gain has landed on top of the box office. Michael Bay, Mark Wahlberg, Dwayne Johnson (Fast and Furious 6), and Anthony Mackie pulled in $20 million in their first three days in theaters.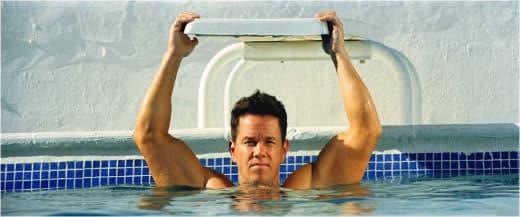 Making room for the new crime dramedy, Oblivion dropped from first to second place. In its second week in theaters, the sci-fi thriller pulled in $17.4 million, bringing its total gross to $64.7 million.
42 came in third this weekend, in its third week in theaters. The Jackie Robinson biopic grossed $10.7 million, for a total gross of $69.1 million.
The Big Wedding and The Croods round out the top 5. The new romantic comedy and the animated feature earned $7.5 million and $6.6 million, respectively.
Box office top 10:
1. Pain and Gain, $20 million
2. Oblivion, $17.4 million
3. 42, $10.7 million
4. The Big Wedding, $7.5 million
5. The Croods, $6.6 million
6. G.I. Joe: Retaliation, $3.6 million
7. Scary Movie 5, $3.5 million
8. Olympus Has Fallen, $2.8 million
9. The Place Beyond the Pines, $2.7 million
10. Jurassic Park 3D, $2.3 million