Remembering Roger Ebert: Living Life with Two Thumbs Up
by Joel D Amos at . Updated at . Comments
The news that Roger Ebert dies at age 70 was not necessarily out of left field. His battle with cancer is long documented. It's just sad, given the fact that just yesterday the legendary critic had said that he was stepping away for a break to battle the cancer that had returned. Less than 24 hours later... he was gone.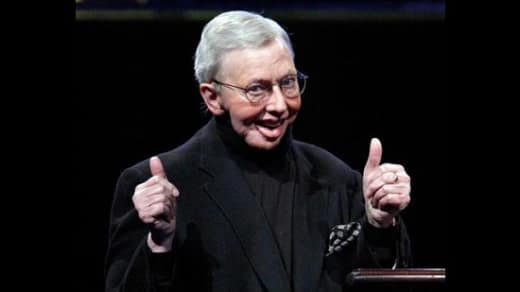 Above all else, Ebert was the people's critic. Before he and Gene Siskel did their At the Movies show, most critics seemed to only appreciate art house films or movies that were the type that earned Academy Award nominations. Ebert could find something that someone would enjoy in most movies, and the movie-going public adored him for it. In fact, in his autobiography Life Itself, Ebert wrote that he considered himself "beneath everyone else as a fan."
That pretty much sums up Ebert -- ever gracious, always keeping in mind the taste of the entirety of the movie-going public.
What's more is by having At the Movies airing weekly, movie reviews entered the nation's living rooms and brought the art of film to the masses as it had never been prior. We were in a television age after all, and Ebert and Siskel were way ahead of their time. It was a world long before internet websites such as Movie Fanatic that brought you movie reviews and news on a daily basis.
When it came to getting inside the movies we loved, there was At the Movies and nothing else.
Plus, he and Siskel coined a phrase that would not only become a standard in their reviewing of films, but would permeate popular culture as well. Giving something "Two Thumbs Up" transcended the film community to life as we know it.
Ebert began his career as a screenwriter and thus perhaps provided his greatest asset to evaluating movies. His script for Beyond the Valley of the Dolls was the only one of his that saw the light of day and became a film. But, the experience led him to be well-versed in all the aspects of movie-making that he would study and critique for decades to come.
What Ebert meant to this movie journalist and film reviewer is that it made the art of movie criticism accessible. He made you feel that there could be a career out there for someone who lived for talking about film. Without Ebert... I would not be here writing for a savvy movie readership that also owes the man a great debt. He will be missed.
Here's to a life led with both thumbs firmly up.