Chris Hemsworth is front and center in the latest poster for the Ron Howard biopic, Rush. Hemsworth portrays James Hunt, the real life Formula One driver who had a charismatic life to say the least. Rush focuses on Hunt's fierce competitive and combative rivalry with fellow racer Niki Lauda. Is it "Chris Hemsworth week" or what? The superstar just saw his Thor: The Dark World trailer debut as well!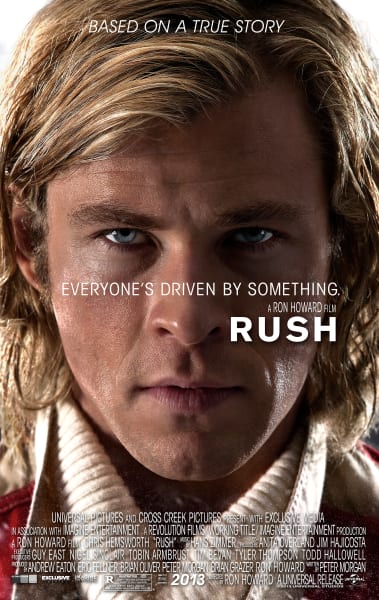 The pair frenetically raced each other in the 1970s and their story comes to the screen with two-time Oscar winner Howard wielding the camera from a script by two-time Oscar nominee Peter Morgan (Frost/Nixon and The Queen).
As seen in this first Rush photo, the film truly captures the feel of the time and given Howard and Morgan's pedigree, with Hemsworth's searing intensity, this should be one don't miss biopic (What are the top 10 biopics of all-time?).
As teased in the Rush trailer, this film promises to chronicle one of the most intense sports rivalries of all-time, even if most American audiences are just learning about it through Howard's film.