Scary Movie 5: Ashley Tisdale Talks Making Love to a Chair!
by Joel D Amos at . Updated at . Comments
When making a parody movie with some of comedy's greats in front and behind the camera (like producer Jerry Zucker of Airplane, The Naked Gun and Top Secret fame), you can't blame star Ashley Tisdale for having trouble not ruining takes by cracking up. Movie Fanatic caught up with the High School Musical veteran and she admitted that keeping in character was the biggest challenge making Scary Movie 5.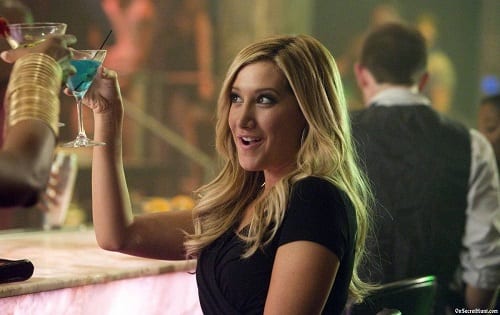 "I just laugh so hard. Yeah, it was definitely a recurring problem. I tried not to because a good actress doesn't break character and I was trying not to break character," Tisdale said.
Her toughest scene mate in that vein was Molly Shannon. "She's just so funny. I mean, she's just hilarious to be with. And so anything that she does makes me laugh. That was definitely the hardest part about this movie."
As challenging as that was, dry humping a plant, microwave and other household furniture items may have been even more so. But, from the sounds of it, Tisdale was made to feel comfortable… as most actresses are in love scenes -- even if this one was with inanimate objects! 
"There was only one camera guy and they kept it really quiet so it was okay. But at that point when I got to having to be with the chair and the microwave and all over the place, I was just like, 'Oh, I've got this. It's fine that everybody's watching.' But I do recall having the hardwood chair hitting me from behind and I looked from behind and I was all into it," Tisdale said and laughed.
"Then suddenly, I was just like, 'I'm getting slammed by a chair right now.' I started hysterically laughing because it's one of those moments that you never think you'd be in that position. It just was so wrong."
Although she was clearly fine with the scene, Tisdale never quite looked at the prop master wielding the chair the same. "I couldn't look him in the eye," Tisdale added and laughed. It's not the only sexually silly scene, just check out this Scary Movie 5 clip with Lindsay Lohan and Charlie Sheen!
Tisdale reported that she is not the biggest fan of horror movies, yet somehow manages to see some that for some reason speak to her. "I have always been really scared of scary movies just because I live by myself. I've never been like really into them," she said.
But making Scary Movie 5 has gotten to the point where she can appreciate them, especially for their parody potential. "Now I'll go watch Mama, because then I see things and I'm like, 'Oh my gosh, that's so spoof-able.' Sometimes, it's just so ridiculous."
As is clear from the Scary Movie 5 trailer, the film spoofs Mama quite a bit. The film had been almost completely shot when that movie came out and immediately the cast and crew were called back because, as Tisdale said, it was so ripe for parody.
"I saw Mama on opening weekend and I came out of there and I texted the producers. And I was like, 'Oh my gosh, like we should really be spoofing Mama because it just worked so well," Tisdale said.
Given the fact that production had concluded, the "reshoot" for the Mama material, since it is the crux of the storyline in Scary Movie 5, required much of the crew and cast. "There were a lot of really long days."
Another film spoofed heavily in Scary Movie 5 is Black Swan. Tisdale appreciated the movie when it first came out, but went back to see it again to wrap her head around what she was spoofing. "Natalie Portman in Black Swan, she always felt like something was after her," Tisdale said. "I felt it fit right into this movie."
Tisdale even trained as a ballerina for the role, even if we never see her dance in the finished product. "That got cut! It was a whole dance sequence," Tisdale said, disappointed. "Yeah, we trained for a month. And then they just cut it right out!"