We won't officially quell our suspicions about Benedict Cumberbatch's  character until the film comes out, but most of the internet does think that his character "John Harrison" could very well turn out to be Khan.
Here's a new still of Kha-- I mean John Harrison: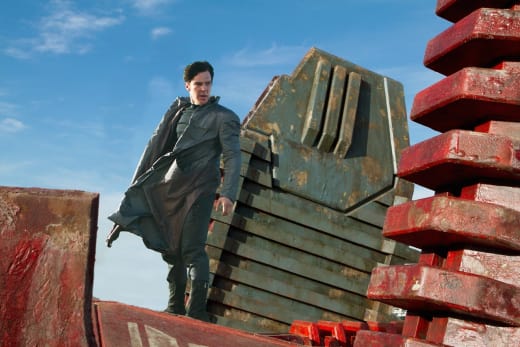 Cumberbatch joins Chris Pine and Zachary Quinto, who return to star as Captain Kirk and Commander Spock. When Starfleet is attacked, the Enterprise crew embarks on a manhunt to take down those responsible.
Karl Urban, John Cho, Zoe Saldana, Alice Eve, Anton Yelchin, Simon Pegg, Bruce Greenwood, and Noel Clarke also star.
J.J. Abrams returns to direct the film, which will premiere May 17. Watch the latest Star Trek Into Darkness trailer for a preview.