Spock and Uhura are focusing intently on something in this new still from Star Trek Into Darkness: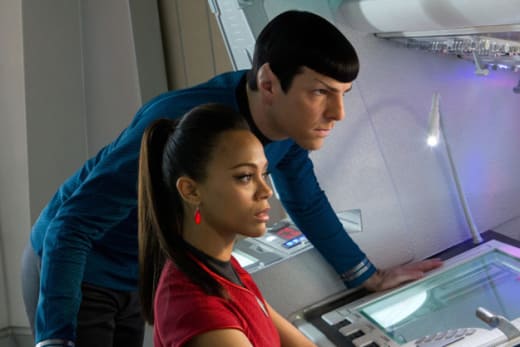 Zachary Quinto stars as Spock with Zoe Saldana (who is in talks to play Gamora in Guardians of the Galaxy) as Uhuru. Chris Pine returns as Captain James T. Kirk.
The film finds the Enterprise crew on a manhunt to take down those responsible for attacking Starfleet. Benedict Cumberbatch, Karl Urban, John Cho (Identity Thief), Zoe Saldana, Alice Eve, Anton Yelchin, Simon Pegg, Bruce Greenwood, and Noel Clarke also star.
J.J. Abrams directs the film, which premiers May 17. Watch the Star Trek Into Darkness international trailer for a preview.