The Great Gatsby Poster: Leonardo DiCaprio & Toby Maguire Go Riding
by Joel D Amos at . Updated at . Comments
Baz Luhrmann's The Great Gatsby promises to be completely unlike the 1974 film starring Robert Redford. The F. Scott Fitzgerald book looks to get its cinematic due from the visionary filmmaker behind Moulin Rouge. The film stars Leonardo DiCaprio as the title character, as well as Tobey Maguire, Joel Edgerton and Carey Mulligan.
Warner Bros. has released a new poster for the flick, featuring DiCaprio and Maguire in Gatsby's classic car... out for a ride.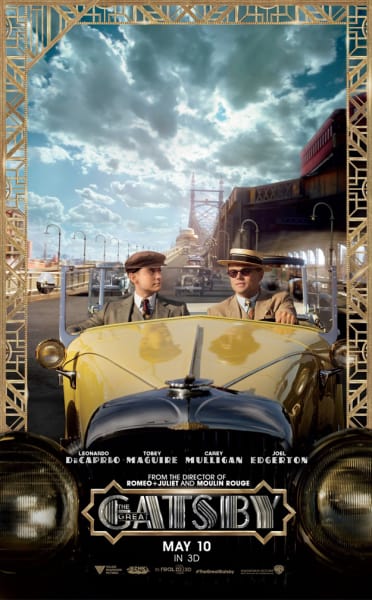 Much was made of the film's delay from last year's Oscar season to a 2013 summer movie. But, given the incredible visuals shown off in The Great Gatsby trailer... the wait is worth it.
The story takes place in the roaring 1920's as America's morals are starting to loosen. Of course, we all know that the Great Depression will curtail those changes until the 1960's... but for one shining decade, people were living loose and free.
Luhrmann has always been known for the look and the power of his films. Judging by these The Great Gatsby character posters... he has done it again. Look for the film when it lands May 10.