It's a Thor crazy week, Marvel fans! Fresh off the debut of the Thor: The Dark World trailer, the film's Twitter feed released the first still. And we could not be more thrilled with the subjects: Chris Hemsworth's Thor and his onscreen father, Anthony Hopkins' Odin.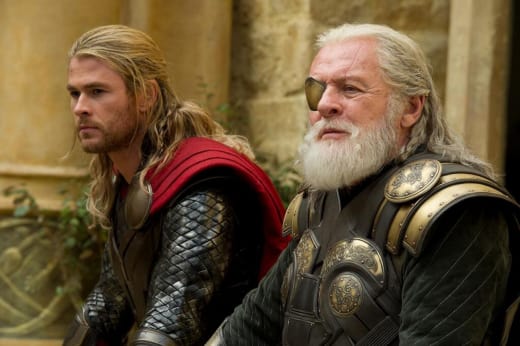 The Asgardian ruler looks as gruff as ever and it appears that father-son are in some sort of deep discussion. We'll have to wait until the film lands November 8 to find out what could have them so serious, but for now… we will relish in the still and the debut trailer -- and let's not forget the recently debuted first Thor: The Dark World poster.
The film features Hemsworth reprising his role from the first Thor film, as well as The Avengers, and Natalie Portman, Tom Hiddleston (back as Loki!), Idris Elba, Kat Dennings, Zachary Levi and Jaimie Alexander.