A Glimpse Inside the Mind of Charles Swan III DVD Review: Charlie Sheen is Sensational
by Joel D Amos at . Updated at . Comments
Charlie Sheen has made a career of late playing characters that are not too far off from his own persona. He made hundreds of millions on Two and a Half Men and hasn't done too badly with his work on FX's Anger Management. In his latest film, A Glimpse Inside the Mind of Charles Swan III, the character is a little different… but still very much in the Sheen wheelhouse.
A Glimpse Inside the Mind of Charles Swan III lands on DVD and Blu-Ray and is a fantastic opportunity for fans of not only Sheen, but also filmmaker Roman Coppola and stars Bill Murray and Jason Schwartzman to discover as unique of a tale as was released in 2012.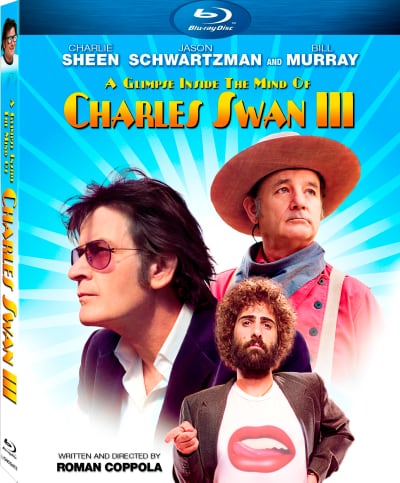 The A Glimpse Inside the Mind of Charles Swan III trailer barely scratches the surface of the brilliant originality that is the visually masterful film. But, what it does do is give the audience a taste of what to expect from the work of a recent Academy Award nominee (Coppola for Original Screenplay for Moonrise Kingdom).
In many ways, and this should not be surprising given Coppola's collaboration with the filmmaker, A Glimpse Inside the Mind of Charles Swan III feels like a Wes Anderson movie. And that is not such a bad thing, is it?
Sheen is a wildly popular artist, whose work is highly coveted by musicians and hipsters alike. His best friend, a comedian played by Schwartzman, has a new album coming out and needs his BFF to craft a cover worthy of his Lenny Bruce-type stand-up. Swan is awash in self-loathing and self medicating after losing his girlfriend because he could not tame his ways (sounds like Sheen, no?).
The film uses numerous storytelling techniques including animation and imagery that can best be described as surreal. As we stated in our theatrical A Glimpse Inside the Mind of Charles Swan III review, Sheen has never been better and we wish more had turned out to see the film. Now that it is out on home video… hopefully that will happen.
The actor proves why producers give him chance after chance, even in the face of his own personal demons. His work is astounding in this film and has nuances that should firmly establish him on the A-list. But if we know Sheen, he made the movie for his friend Coppola and will be content making sitcoms for the foreseeable future.
When it comes to the DVD and Blu-Ray extras, this package is a little light. The audio commentary by writer-director Coppola gives a glimpse into the mind that is the offspring of a legendary filmmaker. The son of Francis illustrates such a command of the art form of film that is expected, given his upbringing, yet is refreshing that it is so firmly planted in originality.
The "making of" featurette is a bit drawn out, but the big surprise is the bonus feature A Glimpse Into the Mind of Charles White. It is a documentary that takes a look at the artist who inspired the film in the first place. It is worth the price of the DVD or Blu-Ray alone.