Will Smith and his son Jaden Smith have a documented cinematic chemistry that works exceptionally well. Their collective performances made The Pursuit of Happyness an unforgettable movie experience (and one of our Top 10 Will Smith movies). The two are back together onscreen as father and son again in After Earth, but the film could not be more different than their first.
Teased in the After Earth trailer, the film follows Kitai (Jaden) and his stern military hero father Cypher (Will) in a universe 1,000 years from now. Earth was no longer hospitable so we left the planet for greener interstellar pastures with an elite military group called The Rangers.
Over those thousand years those pastures were not so green as aliens invaded our new home, armed with a monster genetically created to kill humans simply by the smell fear emits.
Smith is the Supreme Commander and his son has dreams of being a Ranger like his dad and so many heroes before him. Cypher ascended to his position because of his uncanny ability to "ghost." Since the pheromones released by fear are what draws this human killer creature in, the ability to face them down without a literal drop of fear is a priceless ability. You are literally invisible to them if you can "ghost."
Unfortunately, Kitai does not seem to have that gift. That could have come in handy when the spacecraft he and his father are on crash lands with one of those monsters aboard that may or may not have gotten out after the crash. Cypher and Kitai are the only (human) survivors and they quickly learn that where they have landed… is Earth.
Now the wasteland is inhabited with all sorts of animal and plant life that has had the freedom of growing and evolving, sans humans. How will our father and son manage to survive in After Earth?
Well, since Cypher has an injury that keeps him stuck in the captain's chair, it's truly up to Kitai. Their aircraft broke in two and the beacon they need to call for help is in the tail section over 100 kilometers away. The teen must go out, find it, set it off and then return to his injured father in hopes of rescue.
Jaden Smith is a good little actor. He proved that point not only in The Pursuit of Happyness, but also by carrying The Karate Kid. Yet, it is a lot to ask of him to spend much of After Earth alone wandering through the landscape in search of the rescue beacon. And the fact that that human killing creature may or may not be out there is an added fear factor builder, considering the fact that we learn something about a run-in he had with one as a child that clearly haunts him.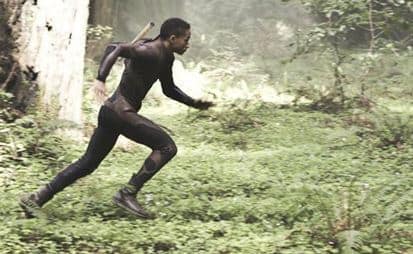 As director M. Night Shyamalan showed in The Sixth Sense and even in Signs, the man knows how to direct young actors and in After Earth, that command has only increased. Shyamalan co-wrote the script, based on a story that Will Smith crafted. There are no classic Shyamalan twists and turns, but that is actually a good thing here. After Earth should be and is more of a straight forward father-son rescue story. With the Smith boys handling the drama, it surprisingly works on many levels.
The only problem we had with the film is one of the best things about it is Will Smith's performance. Unfortunately he spends most of the film confined to the crashed cockpit. And although the talented actor is in a sense passing the torch to his son, in this case, we wish there had been a little more of Will screen time to help flush out his character.
In the end, our After Earth review has to say that Jaden Smith is a cinematic force to be reckoned with as the future becomes the present. He has his father's action hero skills, with just enough innocence tossed in to make the entire After Earth experience work completely through his eyes.