A new photo from the set of Anchorman 2, courtesy of TMZ, shows that the Channel 4 News Team is going to get into another crazy brawl, complete with a second trident attack from Brick.
Take a look: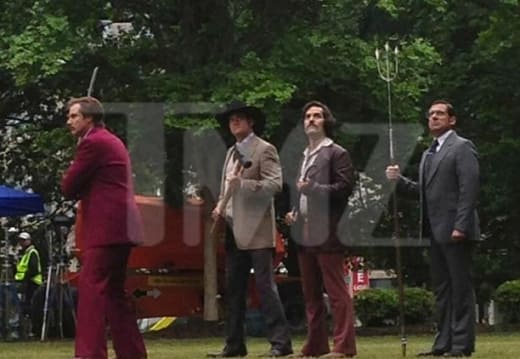 Will Ferrell, Paul Rudd, David Koechner, Steve Carell, and Christina Applegate return to star in the long-awaited comedy sequel. Little is known about the plot of the film, except that it likely includes Ron Burgundy auditioning to be  a cable news anchor, and of course, a crazy fight scene.
Fred Willard, Chris Parnell, Luke Wilson, Vince Vaughn, Kristen Wiig (Bridesmaids), Meagan Good, Dylan Baker, Harrison Ford (Ender's Game), Greg Kinnear, and James Marsden will also star.
Adam McKay is directing the film, which will premiere December 20. Read through some Anchorman quotes for more.