Cloud Atlas DVD Review: David Mitchell Vision Comes Home
by Joel D Amos at . Updated at . Comments
Cloud Atlas arrives on home video after a theatrical run that saw the superstar cast-laden film having some critics finding it brilliant and others left wondering what they just witnessed. Movie Fanatic found in our Cloud Atlas review that the film was powerful and immensely ambitious and now that it is available on Blu-Ray combo pack, DVD and digital download, you too can dive into the world created by author David Mitchell.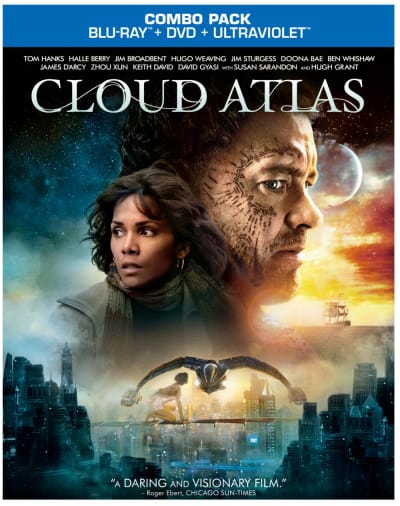 The film stars Oscar winners Tom Hanks, Jim Broadbent, Susan Sarandon and Halle Berry, as well as Hugo Weaving, Jim Sturgess and James D'Arcy. Cloud Atlas follows numerous interweaving storylines that cross time, space and geography. In our Cloud Atlas explained infographic, Movie Fanatic breaks down the connections that see the superstars play as many as six roles each!
Cloud Atlas is directed by the Wachowski siblings and Run Lola Run helmer Tom Tykwer. A visual marvel that fans of the book will treasure, having the film land on home video should give the wildly original film a new audience after its theatrical run.
The work can easily be saluted for its effort in following a vast cast of characters that are somehow all connected, giving the viewer that feeling that in a universe that is measured in light years… we in fact are not alone. Connections run deep across all peoples and galaxies.
Teased in the Cloud Atlas trailer, the film is jam packed with romance, action, sci-fi and grounded in reality story elements. The bonus features on the Blu-Ray that Movie Fanatic received are equally as expansive.
We especially were drawn to the special feature A Film Like No Other, which delves deeper into the process the three filmmakers used to bring the "unfilmmable" book to life. On that note, The Impossible Adaptation feature shows how filmmakers and screenwriters managed to capture the spirit of the expansive book in the three-hour film.
Reinforcing the theme of we are more alike than different, the bonus feature Everything is Connected takes what is presented in the film and puts it into context that is especially fascinating after witnessing the movie in its entirety.
Finally, two other featurettes had us watching them multiple times as their relevance to the film was too powerful for one simple viewing. The Bold Science Fiction of Cloud Atlas and Eternal Recurrence: Love, Life and Longing in Cloud Atlas take the themes presented in the film and put them into an existential context that is simply priceless.