A new still from Ender's Game has dropped over at EW. The still features the first look at Ben Kingsley (Iron Man 3) as Mazer Rackham, sporting a pretty gnarly face tattoo.
Take a look: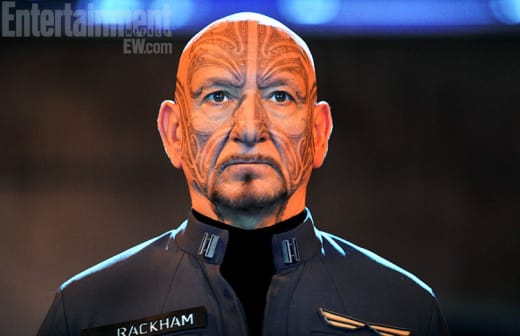 After aliens attack Earth, humanity prepares for a future war by training the best most the best and brightest children as soldiers in the hopes of finding the next leader. Asa Butterfield stars as Ender, who just might be the future leader they've been looking for.
Harrison Ford (42), Abigail Breslin, Hailee Steinfeld, Aramis Knight, Moises Arias, and Viola Davis also star.
The film is based on the novel by Orson Scott Card, with Gavin Hood directing. Stay tuned for the first trailer, expected to arrive next week, and catch Ender's Game in theaters November 1.