Nobody is surprised that Iron Man 3 blew all other movies out of the water in its opening weekend. The movie that began Marvel Phase 2 has been met with wide acclaim from critics and fans alike. Iron Man 3 earned $175.3 million, more than any combined weekend gross for all movies in theaters so far this year, and the second highest opening weekend ever!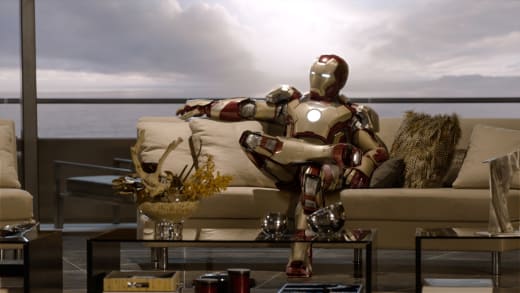 Pain and Gain made room for Iron Man by dropping to second place this weekend. The Michael Bay action comedy took in $7.6 million, bringing its total gross to $33.9 million.
Coming in third is 42. The Jackie Robinson biopic grossed $6.2 million, bringing its total to $78.3 million.
Oblivion and The Croods round out the top five. The sci-fi action film and the animated feature grossed $5.8 million and $4.2 million, respectively.
Box office top 10:
1. Iron Man 3, $175.3 million
2. Pain and Gain, $7.6 million
3. 42, $6.2 million
4. Oblivion, $5.8 million
5. The Croods, $4.2 million
6. The Big Wedding, $3.9 million
7. Mud, $2.2 million
8. Oz the Great and Powerful, $1.8 million
9. Scary Movie 5, $1.4 million
10. The Place Beyond the Pines, $1.3 million