Just in time for Mother's Day, Mama arrives on DVD and Blu-Ray! When Mama arrived in theaters, it shot to number one and stayed there for two weeks. The Guillermo del Toro-produced horror film stars Oscar nominee Jessica Chastain as you've never seen her before.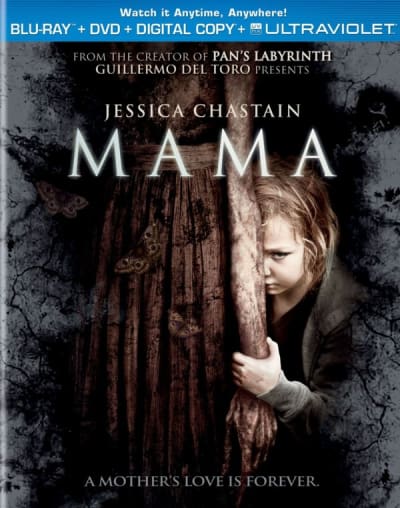 As teased in the Mama trailer, the story follows two small girls who are abandoned deep in the woods when their father disappears under suspicious circumstances. Two years later, a hunter finds them and they are subsequently reunited with their uncle (Nikolaj Coster-Waldau, Game of Thrones). He, along with his girlfriend Annabel (Chastain), have the daunting task of reintroducing the "wild" girls into the world.
The thing is… they didn't leave the woods alone. An evil spirit the kids call Mama has come along, wreaking havoc for all those who stand in the way of her and those girls.
Movie Fanatic quite enjoyed the film, as reported in our theatrical Mama review. It is haunting and amazingly original, especially for a genre that can be quite stale. Chastain is a vision, further continuing her hot streak. But the real star here is the special effects -- that give us a maternal influence that is utterly horrifying.
The Blu-Ray/DVD combo pack that we received is chock full of fascinating extras that take viewers inside the magic of del Toro's hot horror touch.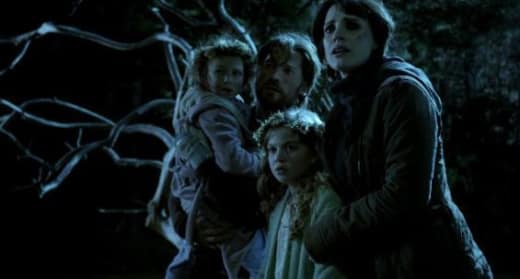 As we stated above, the special effects that create the creature that is Mama are astounding. That wildly creative process is explored in the bonus feature Matriarchal Secrets, a powerful inside look at how the being that is Mama came to be. In other home video releases, the deleted scenes feature can be mundane. But, on the Mama DVD and Blu-Ray combo pack, they give fascinating details to the story… but make sure to witness them after seeing the entire film!
Mama is based on a short film, and luckily for viewers, that is included on the DVD and Blu-Ray, along with commentary by co-writer/director Andy Muschietti and producer/co-writer Barbara Muschietti -- who also combined forces on the full length feature.
Fans of del Toro (soon to present his Pacific Rim to audiences this summer) will also appreciate the exclusive interview contained on the package with the master filmmaker, who explores his passion for horror films that is evident on every frame of Mama.