Mister Rogers is getting his own biopic.
The sweater wearing children's television icon will be the subject of a new film, A Beautiful Day In The Neighborhood, according to Deadline.
Alexis Jolly's script has sold to Justin Nappi and Kevin Turen's Treehouse Pictures. Nappi and Turen will produce, along with Juliet Berman.
Jolly has been a staff writer on The Ellen DeGeneres Show and pitched the film idea to APA agents, who helped it find a home at Treehouse.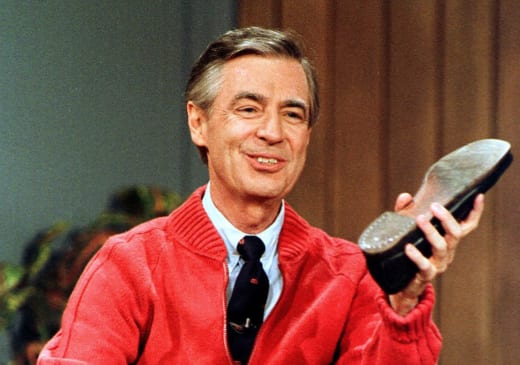 Fred Rogers died in 2003 at age 74.
A former Presbyterian Minister, he hosted Mister Rogers' Neighborhood from 1968-2001, winning four daytime Emmy Awards and a Lifetime Achievement honor.
Said Justin Nappi in a statement:
"Fred Rogers was such an inspirational man for so many people. His keen ability to find the good in anyone, or anything, will make for a truly inspiring cinematic experience."
"In literally shaping the world around him to fit into his own unique perspective, he created what is arguably the most influential American children's television show of all time."
Who do you think should play Fred?