Now You See Me: Isla Fisher "Almost Drowned" During Filming!
by Joel D Amos at . Updated at . Comments
Isla Fisher stars in Now You See Me as one of the quartet of magicians known as The Four Horsemen. As teased in the Now You See Me trailer, the four stage elaborate illusions for their act that involve stealing money from banks around the world and sharing some of the loot with their audience. Needless to say, the Feds (led by Mark Ruffalo) do not take too kindly to this.
Fisher first caught American audiences' eyes when she stole scenes from Vince Vaughn and Owen Wilson in The Wedding Crashers and went on to star in a slew of films, including Confessions of a Shopaholic and can currently be seen in The Great Gatsby.
Of all the challenges she faced making Now You See Me, she tells us the most difficult was tackling a Houdini-style chained underwater trick where she must break free. The trick was so dangerous... the Australian actress almost died!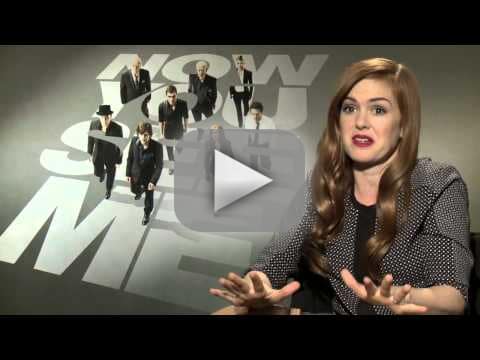 "I was in that tank for three days. The handcuffs that they made me were magnetic so I could get free, but the chain that joined them… wasn't," Fisher admitted. "It got caught on the bottom of the tank and I almost drowned."