Movie Fanatic has partnered with SundanceNow to give one of our readers a chance to win a code that allows them to watch the acclaimed movie On the Road at home. The film is based on the iconic book by Jack Kerouac and is one of the most important stories of our time.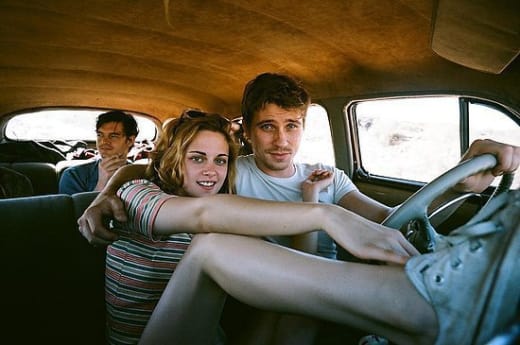 As shown in the On the Road trailer, the film stars Twilight Saga veteran Kristen Stewart, Garrett Hedlund, Sam Riley, Viggo Mortensen, Kirsten Dunst, Amy Adams, Tom Sturridge and Mad Men star Elisabeth Moss.
The story takes place in the 1950s as Americans return home from World War II and it's years before the counterculture revolution of the 1960's. Yet, Sal Paradise (Riley), Dean Moriarty (Hedlund) and Marylou (Stewart) refuse to live their lives by the pre-determined standards set by society. They love their booze, drugs, sex as they head out On the Road to find themselves and lay the groundwork for a societal revolution.
On the Road, the novel, is based on Kerouac's real life travels and its realism is why it has resonated so strongly for over a half-century.
Check out the below interview with Stewart and Hedlund, created specially for this home release.
As we stated in our theatrical On the Road review, the film is powerful and now is your chance to see it on SundanceNow, in the comfort of your own home.
Use the widget below to enter on Facebook or Twitter. There are three unique ways to enter, and by entering all three ways you can increase your chance of winning. A winner will be announced June 7. Good luck!