Robert Downey, Jr.'s Iron Man Future: Will he be Around for The Avengers 3?
by Micah J Gordon at . Updated at . Comments
Last weekend, Iron Man 3 achieved the second-biggest opening ever, earning $175.3 million. That's second only to The Avengers.
That means the two biggest openings ever were for movies that starred Robert Downey, Jr. as Tony Stark. It comes as no surprise, then, that Marvel is scrambling to negotiate Downey's return to the franchise, with his contract having run out.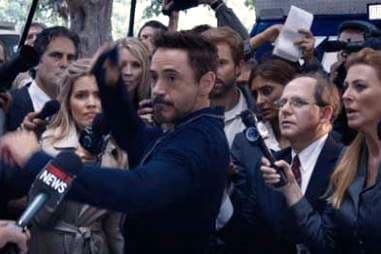 According to THR, Downey met with Marvel Studio heads on Monday to celebrate IM3's success and to discuss this very issue. Downey has stated that he is interested in retiring from the character and pursuing less superheroey projects.
The negotiations are primarily to ensure Downey's return for The Avengers 2 and The Avengers 3, which will mark the ends of Marvel Phase 2 and Phase 3, respectively.
As for the future of the Iron Man standalone series, that seems a lot less likely. Marvel definitely has an interest in getting the actor to sign a new multi-picture deal, as Downey is to Marvel Studios as Babe Ruth is to Yankee Stadium.
Of course, as Yankee Stadium has proven, even sanctuaries built on the shoulders of immortal giants eventually get torn down and replaced with newer models that have a Hard Rock Cafe in them.
It seems likely that Downey will appear in The Avengers 2, and probably The Avengers 3 also, if in a reduced role. But as for Iron Man 4, we'll have to wait and see.