Sarah Polley had a secret and now, thanks to her wildly powerful film Stories We Tell, the world knows it. The filmmaker has wowed audiences with her work, most recently writing and directing Take This Waltz with Michelle Williams and as an actress in films as far reaching as Dawn of the Dead and one of our favorites… Go.
Polley has released a documentary, teased in this Stories We Tell trailer, which follows her family history and how her world turned upside down when she discovered that the man who raised her was not her biological father.
The film is told through visual flashbacks that feel so real, you would swear you could see how Polley turned to film as a career because a family member chronicled everything they did. Of course, the scenes are recreations, but the familial love and the reality of it all seems so real it's palpable.
Her mother was an actress, like her father (who also was a playwright), and as the family grew, their dreams of stage stardom waned -- given the weight of raising a family. Sarah came late, she was the last born, and there was an ongoing joke that she did not look at all like her father.
Her mother, who everyone that comments throughout the documentary clearly adores, was lauded by her friends and family alike. They heap praises on this woman for her voracity of life and her passion for living it to the fullest. Yet, beneath that enigmatic smile was a woman who was a little lost and riddled with regret of a life not lived. Through this family secret, we learn through Sarah's cinematic journey with Stories We Tell, that she had another life and it produced Sarah.
The film introduces us to Sarah's real father and we learn of their relationship and more importantly, how it impacts the man who raised her with love. This is also a uniquely Canadian story as everyone in it possesses the traits of those people that they are most known for including politeness and ever-growing graciousness.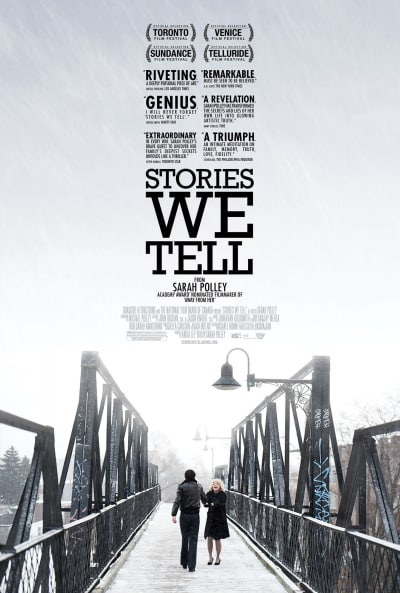 In America, this may have been a scandal worthy of appearances on daytime talk shows. But, through this uniquely Canadian way of telling this story, it is powerful, intimate and all encompassing in its ability to haunt you in the best of ways -- long after the credits have rolled..
Polley is a gifted filmmaker, that much has been proven. But, what she does with her own story and how she combines her cinematic vision with emotional landmines is nothing short of a miracle. She is a writer-director whose work has leapt to the top of our list of people whose films we will witness, regardless of their subject matter. Polley's work needs to be seen… period, and that is never so clear than in Stories We Tell.