The East: Alexander Skarsgard & Brit Marling Talk Power of Tony Scott
by Joel D Amos at . Updated at . Comments
Alexander Skarsgard (True Blood) and Brit Marling are talking exclusively to Movie Fanatic about The East and we couldn't meet them without asking about legendary director Tony Scott (Top Gun). See, The East was one of the producer's last efforts before Tony Scott died. Marling co-wrote and stars in The East and she was clearly honored by the icon's taking an interest in her work.
"It was a tremendous thing that they (Scott and his brother Ridley) wanted to be a part of this movie," Marling said. "I grew up watching their films, especially their espionage films that are entertaining, but with amazing performances."
Skarsgard also grew up a fan of the helmer's work and was also just amazed that his name is now connected to Scott's and his astounding body of work. "Unfortunately I never got to meet him, but I agree. Scott Free is an amazing company and with those guys… it is an honor to work with them," he added.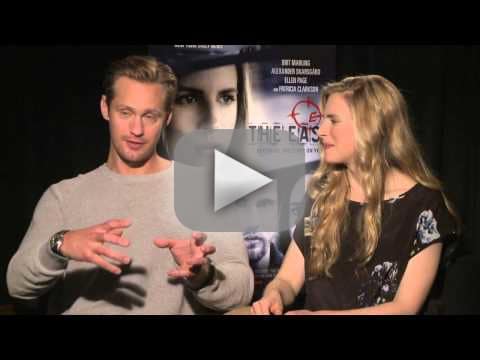 As shown in The East trailer, the film follows a story that could easily be ripped from the headlines. Marling plays a corporate spy who is investigating an eco-terrorist group led by Skarsgard. She manages to infiltrate the cult of righting ecological wrongs and finds quickly all is not what it seems in corporate espionage.
After Marling's stellar work on Sound of My Voice and Another Earth, Skarsgard was equally as inspired to be working with the woman sitting next to him, Marling.
"I didn't know Brit. I just read the script. I was wrapping the season of True Blood and was about to start a six month hiatus. I had read a lot of scripts. One day, I read The East," Skarsgard said. "I was blown away by it. It was so interesting, smart, relevant and entertaining and it made me think and raised a lot of questions, morally."