The East: Ellen Page Bares Her Soul & Sets Movie Tone
by Joel D Amos at . Updated at . Comments
The East stars Alexander Skarsgard and Brit Marling, who co-wrote the film with director Zal Batmanglij. It also stars X-Men movies standout Ellen Page, who Batmanglij tells us in our exclusive video interview with the actress, set the tone for the entire intense shoot.
"The very first shot of the movie is Ellen naked. She came to set and I thought, 'How is she going to handle this?' She just dropped the robe and got into the position she was supposed to be in. It was really cold. She was shaking. Not only were the other actors all around, but the crew was too. The moment I called action, she was in the moment," Batmanglij said.
"In that moment, she changed the whole tenor for the whole film."
"The first day was kind of great," Page concurred.
Page was struck by Marling and Batmanglij's passion. "I wanted to jump into their world of telling stories," she said of The Sound of My Voice filmmakers. "When you meet them, you feel that immediately."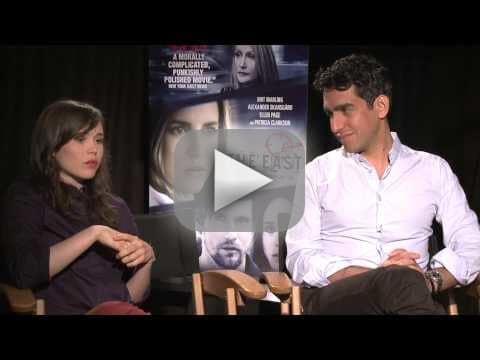 The East follows an eco-terrorist group seeking to have executives from corporations who do the planet wrong pay for their sins in the most fitting of ways. As you can see from The East trailer, it is one moral-pushing movie -- something Batmanglij feels is a story that had to be told now.
"I've long been fascinated with marrying the issues of the time with a thriller," Batmanglij said. "We live in a very strange time. We wanted to tell a story that would raise a lot of these questions."