The Hangover Part III Giveaway: Win a Giraffe Theme Prize Pack!
by Joel D Amos at . Updated at . Comments
The Hangover Part III is in theaters Thursday, May 23 and reunites the series' stars Ed Helms, Bradley Cooper, Zach Galifianakis and Justin Bartha. Filmmakers behind the series promise that this is the end of the madcap adventures of our favorite film foursome. In fact, they are so confident they are closing The Hangover franchise, they put the words "The End" on top of the poster!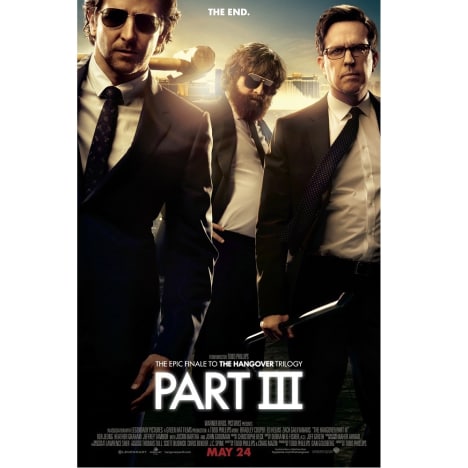 To celebrate that "end," Movie Fanatic is proud to present a The Hangover Part III prize pack that celebrates the arrival of the closing of one of the most successful comedy franchises of all time. Given how pushing the envelope the comedy is, as shown in The Hangover Part III red band trailer, that is one impressive feat. But, considering how much audiences adore the work of director Todd Phillips (Project X), that should hardly be a surprise.
Our grand prize winner will score a four-foot, nine-inch tall plush giraffe (I know you've seen it in The Hangover Part III trailer!), a green duffle bag with patches, giraffe bottle opener in pouch, toiletry bag, Next Level Men's "It Ends" heather grey V-Neck Tee, Ladies' "Giraffe" pink tank top and a The Hangover Part III screen wipe on card.
Use the widget below to enter on Facebook or Twitter. There are three unique ways to enter, and by entering all three ways you can increase your chance at winning!
Both our grand prize winner and runner-up will be selected at random on Monday, May 27. Good luck!
Don't forget to visit The Hangover Part III official site for more on the new film. And to further stay informed on all The Hangover madness, check out The Hangover Part III Facebook page and follow @wbpictures on Twitter.
Be sure to enter now as the sweepstake runs through May 27.
You can also sign up for Warner Bros. special offers, be the first to know movie news, updates and more at:
The Hangover Part III Synopsis:
It's been two years. Phil (Bradley Cooper), Stu (Ed Helms) and Doug (Justin Bartha) are happily living uneventful lives at home. Tattoos have been lasered off, files purged. The last they heard from disaster-magnet Leslie Chow (Ken Jeong), he'd been tossed into a Thai prison and, with him out of the way, the guys have very nearly recovered from their nights prowling the seamy side of Las Vegas in a roofie'd haze, and being kidnapped, shot at, and chased by drug-dealing mobsters in Bangkok.
The only member of the Wolfpack who's not content is Alan (Zach Galifianakis). Still lacking a sense of purpose, the group's black sheep has ditched his meds and given in to his natural impulses in a big way -- which, for Alan, means no boundaries, no filters and no judgment -- until a personal crisis forces him to finally seek the help he needs.
And who better than his three best friends to make sure he takes the first step. This time, there's no bachelor party. No wedding. What could possibly go wrong? But when the Wolfpack hits the road, all bets are off.
The Hangover Part III is the epic conclusion to an incomparable odyssey of mayhem and bad decisions, in which the guys must finish what they started by going back to where it all began: Las Vegas.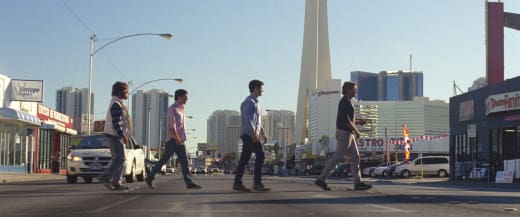 One way or another... it all ends here.
From Warner Bros. Pictures and Legendary Pictures comes The Hangover Part III, the third and final film in director Todd Phillips' record-shattering comedy trilogy.
The Hangover Part III reunites stars Bradley Cooper, Ed Helms, Zach Galifianakis and Justin Bartha as Phil, Stu, Alan and Doug. Also returning to the cast are Ken Jeong as Leslie Chow; Heather Graham as Stu's first wife, Jade; and Jeffrey Tambor as Alan's father, Sid. Joining the ensemble for the first time is John Goodman, starring as the guys' new nightmare, Marshall.
Todd Phillips directs from a screenplay he wrote with Craig Mazin, who previously collaborated with him on the screenplay for The Hangover Part II. The film is produced by Phillips and Dan Goldberg, with Thomas Tull, Scott Budnick, Chris Bender and J.C. Spink serving as executive producers. The film also reunited key members of Todd Phillips' creative team from the first two films: director of photography Lawrence Sher, editor Debra Neil-Fisher and costume designer Louise Mingenbach. They are joined by production designer Maher Ahmad (Gangster Squad) and editor Jeff Groth (Project X). The music is composed by Christophe Beck, who created the scores for The Hangover and The Hangover Part II.
Warner Bros. Pictures presents, in association with Legendary Pictures, a Green Hat Films Production of a Todd Phillips Movie: The Hangover Part III. It will be distributed worldwide by Warner Bros. Pictures, a Warner Bros. Entertainment Company.
This film is rated R by the MPAA for pervasive language including sexual references, some violence and drug content, and brief graphic nudity.
The Hangover Part III Prize Pack Release and Indemnification:
By entering the sweepstakes, entrants release and hold harmless Warner Bros. Entertainment Inc. and each of its respective parents, divisions, affiliates, subsidiaries, agents and advertising agencies (collectively,  "WBEI" ) from and against any and all losses, damages, rights, claims, and actions of any kind arising in whole or in part, directly or indirectly, from the sweepstakes or participation in any sweepstakes-related activity (including without limitation the removal from the site of, or discontinuation of access to, any materials), or resulting directly or indirectly, from acceptance, possession, use, or misuse of any prize awarded in connection with the sweepstakes, including without limitation personal injury, death, and/or property damage, as well as claims based on publicity rights, defamation, and/or invasion of privacy.
Limitation of liability:
In no event will the WBEI be responsible or liable for any damages or losses of any kind, including without limitation direct, indirect, incidental, consequential, or punitive damages, arising out of any access to and/or use of the sweepstakes site, the downloading from and/or printing material downloaded from the sweepstakes site, the removal from the sweepstakes site of, or discontinuation of access to, any materials, or the acceptance, possession, use, or misuse of, or any harm resulting from the acceptance, possession, use or misuse of, or participation in, any prize awarded in connection with the sweepstakes. Without limiting the foregoing, the sweepstakes, all prizes, and all materials provided on or through the site "are provided as is" without warranty of any kind, either express or implied, including without limitation the implied warranties of merchantability, fitness for a particular purpose, and non-infringement.