The six dudes from This is the End are featured in a new batch of stills. Check them out: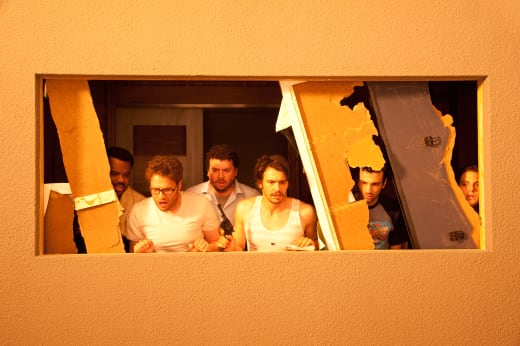 Seth Rogen, Jay Baruschel, Craig Robinson, Danny McBride, Jonah Hill (21 Jump Street), and James Franco star as themselves in the apocalyptic comedy. While at a party at Franco's house, a series of events hit Los Angeles that just may lead to the end of the world.
The film also stars Michael Cera, Jason Segel, David Krumholtz, Paul Rudd (Anchorman), Aziz Ansari, Mindy Kaling, Martin Starr, Kevin Hart, Rihanna, and Christopher Mintz-Plasse, playing themselves.
Rogen co-wrote and co-directed the film with his writing partner Evan Goldberg. Watch the This is the End red band trailer for more.