We're The Millers Red Band Trailer: Jennifer Aniston as a Stripper?
by Joel D Amos at . Updated at . Comments
Fresh off the release of the green band We're the Millers trailer, Warner Bros. has released the red band teaser that shows more footage and more of its stars.
Jennifer Aniston stars as a stripper who finds her life, to quote the theme song from her classic TV show, "stuck in second gear." When she's approached by her neighbor, played by Jason Sudeikis, with an opportunity to make some real money, she doesn't hesitate. Except... it may be more of a challenge than she ever envisioned. Stripping may be easy compared to pretending to be a happily married mother of two.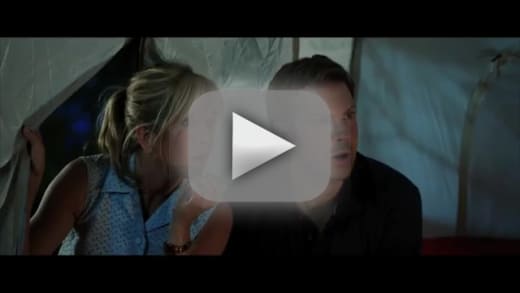 Sudeikis is a low level pot dealer who gets into trouble with his source (Ed Helms) and is forced to go to Mexico and bring back a "smidge" of pot. He hatches a plan to pose as a family with a misfit boy, streetwise girl (Emma Roberts) and Aniston and drive back with an RV full of pot that should throw off border agents who would never search a family on vacation. Sounds simple enough, no?