A Good Day to Die Hard Giveaway: Celebrate Father's Day with Bruce Willis
by Joel D Amos at . Comments
Bruce Willis showed the fatherly side of his character John McClane in A Good Day to Die Hard, and now -- just in time for Father's Day -- Movie Fanatic is giving away three Blu-Ray copies of the action hero's latest.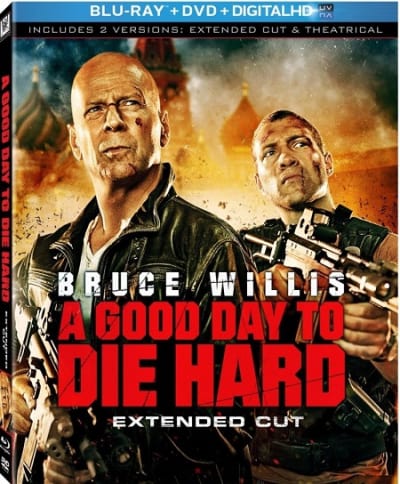 Previewed in the A Good Day to Die Hard trailer, McClane is joined on a Russian adventure by his son Jack McClane (Jai Courtney). It seems that Jack has gotten into a little trouble in Moscow and found himself in prison. What John doesn't know, is that Jack is on a mission of some sort and in no way needs to be rescued. But, as most sons find from their fathers… a little help is never a bad thing.
The McClane boys aren't the first father-son action team to get our excitement going. Here are a few more to highlight the father-son bond in film during this Father's Day time.
The Jones Boys
In Indiana Jones and the Last Crusade, we meet Indy's father (Sean Connery) and it's easy to see how the apple does not fall far from the tree. And who doesn't love the scene where Papa Jones informs the audience that Indy took his famous moniker from the dog?!
The Father and Son Force
Luke Skywalker and his father Anakin Skywalker (otherwise known as Darth Vader) first truly explore their father-son bond in The Empire Strikes Back. It was a revolutionary reveal for the Star Wars franchise and it is that film that is often cited as the best of the series.
The Godfather
It must be hard to be the son of Don Corleone. As embodied by James Caan, we can see why Sonny Corleone is a hot head. How do you live up to Marlon Brando for goodness sakes?
Tron Legacy
Spoiler! Jeff Bridges' Flynn saves son Sam (Garrett Hedlund) from CLU, showing that nothing can stop the bond between a father and his boy.
If the above father and son examples of action heroes and their kin doesn't get you in the mood for Father's Day, then surely entering our A Good Day to Die Hard contest will and nothing says "I Love You, Dad," like the gift of movies!
Use the widget below to enter on Facebook or Twitter. There are three unique ways to enter, and by entering all three ways you can increase your chance of winning. A winner will be announced on June 17. Good luck!