Before Midnight: Ethan Hawke & Julie Delpy Talk Movie Couple Sequels
by Joel D Amos at . Updated at . Comments
Before Midnight is that rare film that is part of a romance series that is a trilogy and we met stars Ethan Hawke and Julie Delpy for an exclusive video interview to talk about their onscreen couple, who we first encountered in Before Sunrise (One of the Top 10 Ethan Hawke movies!) in 1995 and reconnected with in 2004's Before Sunset.
Movie couples never get sequels, much less become a trilogy. So we asked the duo which film couple over the years would they like to check back in with.
"For me, I love Hitchcock films. I'd love to see the two from The Birds," Delpy said. "When they survive the birds, what happens? Also, I would love to see Minnie and Moskowitz (John Cassavetes movie). What happened to them now?"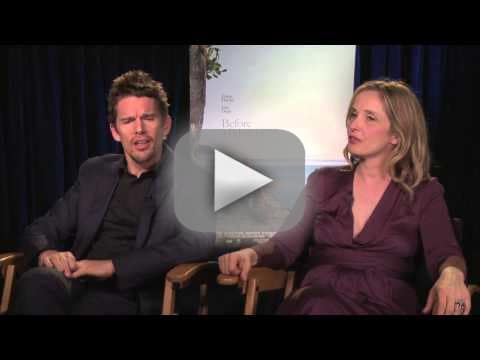 As seen in the Before Midnight trailer, one of our favorite movie pairs are now parents to twin girls as the film explores the "what's next?" of relationships that have stood the test of time. Hawke and Delpy holed up in an apartment with series director Richard Linklater and wrote the script as a trio. They say, it was the most organic and priceless of life moments.
"It's unlike any other experience," Hawke said. "To write a movie with your director and your co-star!"
Delpy concurred. "It's worked since the first film. Richard hired us and there was an original screenplay, but he wanted input from his actors beyond just playing characters. That connection is kind of unique."
For more on Before Midnight, out nationally June 14, check out our Before Midnight review.