Escape from Planet Earth DVD Review: Animated Sci-Fi Fun for Kids
by Joel D Amos at . Updated at . Comments
Escape from Planet Earth arrives on DVD and Blu-Ray and as the kids across America start their summer vacation, the Weinstein Company has unveiled their first home video must. The animated film features an all-star cast including Jessica Alba, Sarah Jessica Parker, Sofia Vergara, Jane Lynch, Rob Corddry, Ricky Gervais, Craig Robinson, George Lopez and William Shatner.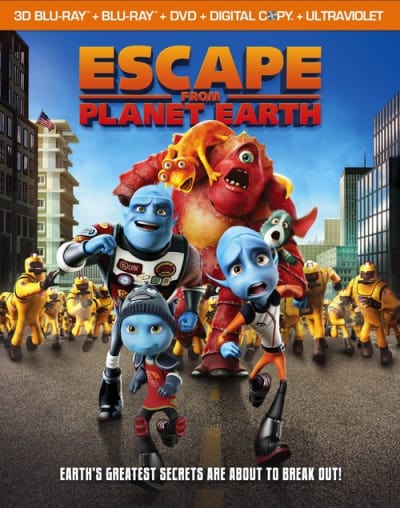 In fact, it was our exclusive interview with the last star on that list where William Shatner called J.J. Abrams a pig! But, don't hold that against him, even if he is the villain in this film that turns the alien invasion genre completely on its head. It seems in Escape from Planet Earth, the humans are the evil-doers and it is the aliens who are trying their best to get home.
As we stated in our theatrical Escape from Planet Earth review, this is a film that is clearly for children. Parents might find it a bit mundane, but the animation is gorgeous and the voice-over performances are top notch.
The Escape from Planet Earth trailer hints at the plot that chronicles the adventures of the people of Planet Baab, who are quite blue, but in color only! They adore their space exploration hero Scorch Supernova (Brendan Fraser), even if his Mission Control head brother Gary (Corddry) is the key to his success.
BASA's chief (Alba) gets a distress signal from the "Dark Planet," and she sends Scorch on a mission to rescue those who sent it. Turns out, that evil planet… is Earth! Scorch heads out, despite the objections of Gary and… well, that's all we're going to tell!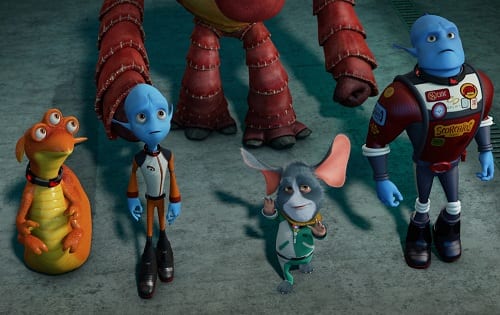 The DVD and Blu-Ray bonus features include the director commentary track by Cal Brunker, which is especially interesting on an animated movie. Hearing about the choices he made artistically and plot-wise adds a little something more to the experience for adults, and kids will also be intrigued by the behind-the-scenes access.
If the little ones are intrigued by the "how-to" aspect of making an animated movie, the bonus feature How to Make An Animated Feature with Director Cal Brunker is a gift from heaven.
The "Making-Of" doc is a nice addition, especially for those youthful aspiring to be animators. And a terrific addition for an animated movie that we don't get too much on home video releases is the alternative takes feature and for kids who can't get enough of their Escape from Planet Earth, the deleted scenes will compel.