Identity Thief DVD Review: Melissa McCarthy Steals Our Hearts
by Joel D Amos at . Updated at . Comments
Since she stole scenes from an incredibly funny cast in Bridesmaids, Melissa McCarthy has been on a roll unlike any other. Proof of that arrives on DVD, Blu-Ray and digital download today with Identity Thief. She stars opposite Jason Bateman as the titular character and further shows why the world is going gaga for the comic female phenomenon.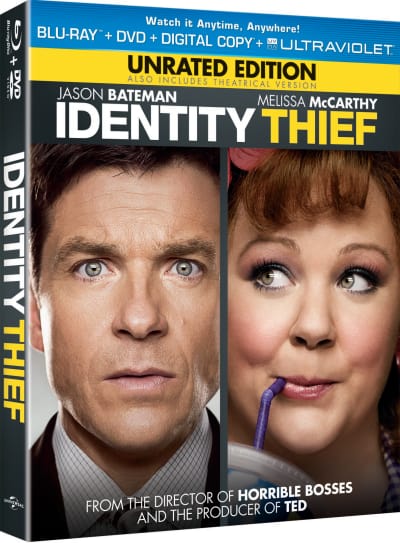 As the Identity Thief trailer shows, McCarthy is a low level crook who has gotten her minor operation into quite the groove. She lives in Florida and seeks out suckers over the phone and cons them into giving her their social security number and other vital pieces of information. As our film starts, the mark is Bateman's Colorado yuppie. Almost nonchalantly, she phones him posing as his bank and our con is on.
When his bank account and credit cards are cleared of fund availability, it affects his job because it also seems she has done some illegal things -- all using his name. Guess the second crime committed against him is his parents giving him a girl's name, Sandy!
Bateman learns where this Identity Thief lives and leaves his wife and family behind, all in an effort to get her himself (as the law is ineffectual).
Our Identity Thief review from when the film hit theaters stated that McCarthy and Bateman are a killer comedy duo. The McCarthy part was originally written for a man, but when Bateman saw The Groundlings veteran in Bridesmaids, he immediately had screenwriter Craig Mazin change the gender to get the up-and-coming comedy starlet. It could not have been a wiser move.
The film did decent business in theaters, and should do quite well on home video. The usual comedy DVD suspects are here and with comedy improv pros working the funny, watching a gag reel is rarely this fun and fresh. And the "making of" doc is a delight to witness, again, simply because of the joy of watching the two stars do their thing.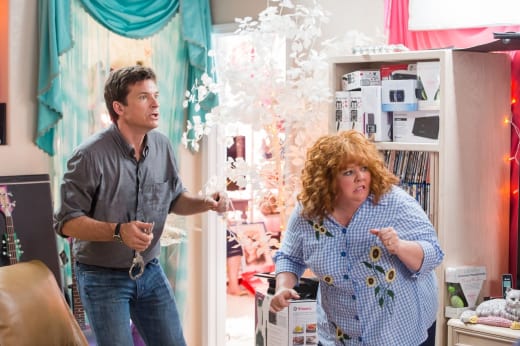 There are some side stories that don't quite work in the film, especially the one starring Robert Patrick. We adore the work of the man who was the second Terminator, but his storyline is superfluous in the film itself. Yet, the bonus feature that takes you inside his Skiptracer vehicle, The Skiptracer Van, is more fascinating than the character's entire storyline.
Finally, the featurette Scene Stealing: Capturing the Humor of Identity Thief, is a well thought out look for comedy fans at how two stars, their director and screenwriter, join forces to create the funny that is honestly on the highest of levels.