Iron Man 3 continued Marvel Studios' hot streak with its billion dollar global take earlier this summer, even landing on our Top 10 Movies of 2013 So Far because it was that good. Marvel Studios and Disney have announced that the most anticipated DVD and Blu-Ray release of the year now has a release date. Look for Iron Man 3 to arrive on HD Digital and HD Digital 3D home video September 3.
The film teased in this brilliant Iron Man 3 trailer will be released in a 3D Super Set, a Blu-Ray Combo Pack (which includes the Blu-Ray, DVD and a Digital Copy) on September 24.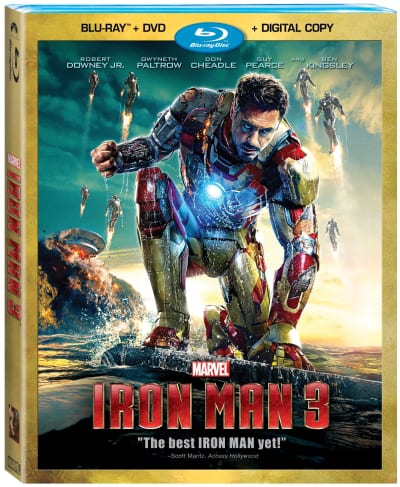 As we stated in our Iron Man 3 review, Robert Downey Jr.'s return as Tony Stark/Iron Man is not without complication. After what happened during The Avengers, our hero in the metallic suit is having trouble sleeping. After all… after fighting alongside a god, how do you stack up?
But, what everyone really wants to know is… what extras are included? Director Shane Black leads what looks like a fantastic extra, Deconstructing The Scene: Attack On Air Force One: Jump Into Action with the Stunt Team.
The next advertised extra is sure to be the highlight for Marvel fans: Exclusive Behind-The-Scenes Look -- Marvel's Thor: The Dark World. The featurette takes viewers on a first hand experience of the new worlds and characters of the upcoming sequel to Thor.
Finally, we are intrigued by the bonus feature Marvel's Iron Man 3 Unmasked where the cast talks about what it was like to make a blockbuster movie in the world of Marvel.