Jack the Giant Slayer has arrived on DVD, Blu-Ray and digital download and it is sure to sprout some interest from those who have been fascinated by the Jack and the Beanstalk tall tale. The Jack the Giant Slayer trailer showcases that the film stars Nicholas Hoult, Stanley Tucci, Ian McShane, Billy Nighy, Eleanor Tomlinson and Ewan McGregor and is clearly not your grandparents' Jack and the Beanstalk story.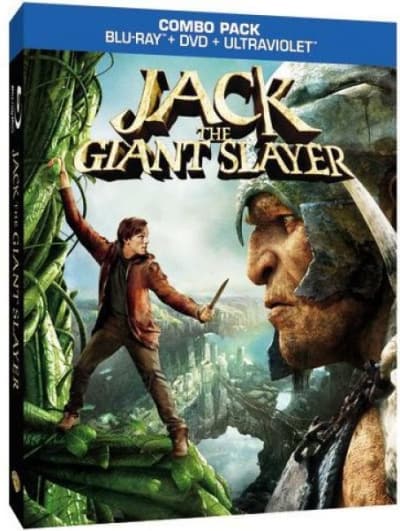 The classic tale gets an update by director Bryan Singer (currently working on X-Men: Days of Future Past) that envisions a world of giants that were previously only the stuff of children's nightmares.
For those that are completely unfamiliar with the tale, Singer's vision -- at its core -- doesn't stray too far from the original story of a young man who winds up with a set of magical beans. He plants them in the ground and before you can say Jolly Green Giant, a giant beanstalk that shoots into the sky has sprouted.
In Singer's film, Hoult's Jack has taken a liking to the land's princess, Isabelle (Tomlinson), and they meet as she is escaping an arranged marriage to Tucci's Roderick. See... let's back up a little. Before Isabelle comes running to Jack's house, he put the beans in the ground -- and nothing happened. During the night while Jack is consoling Isabelle, it rains and the growing beanstalk grabs her and takes her to the sky.
Jack awakes in rubble as the stalk has destroyed his uncle's farm and house, but he knows one thing: The princess is up there and he's going to get her. And thus, our adventure is on.
As we stated in our Jack the Giant Slayer review, the best of the film is McGregor. He has a ball portraying the kingdom's expert military man and his scenes with Hoult are quite electric. The world of the giants is also quite impressive and the set design delivers on so many fronts. There are a few issues with the plot, which we explore further in our theatrical review.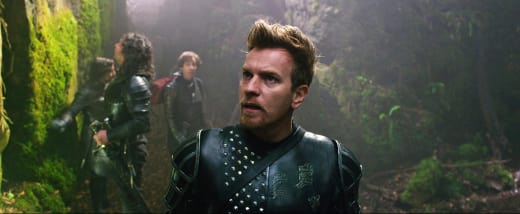 But, as for DVD and Blu-Ray extras, they abound and one in particular was sensational. The Blu-Ray includes an interactive experience entitled Become a Giant Slayer. Players get to explore the Jack the Giant Slayer world and be a part of it. It is rare that a game is included in a home video release that is honestly as fun, if not more fun, than the film itself.
Also included are two of the usual suspects for a home video release: Deleted scenes and a gag reel. The deleted scenes actually enhance the film as one can see that Singer had to edit his film for time and there are a few scenes that could have easily worked in a home video director's cut if he was allowed to put one together. The gag reel is OK, but not great.
Is this a film for kids? Of a certain age, why yes it is. The violence may be cartoony, but it will still scare younger children… just a warning.